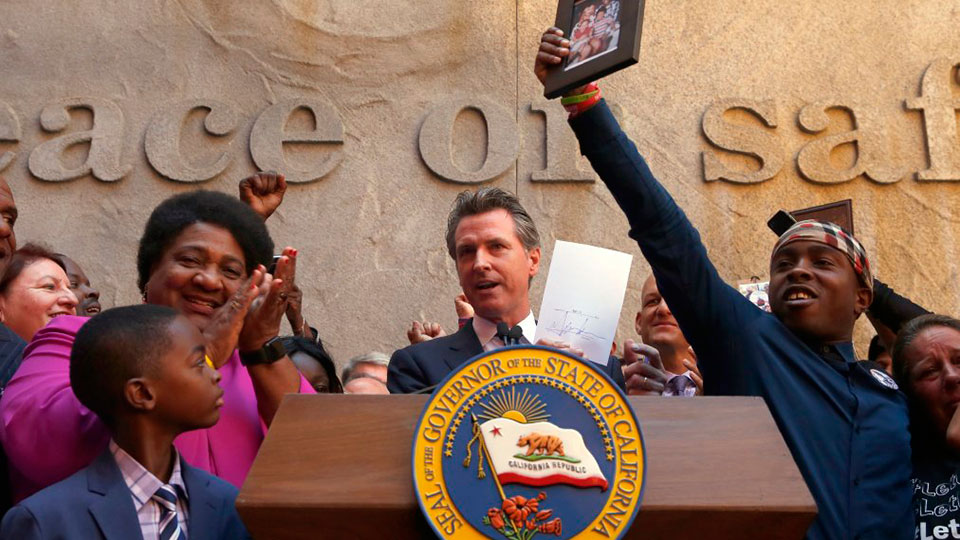 On a stage packed with legislative and other civic leaders, civil rights activists and members of families with loved ones killed by police, California Governor Gavin Newsom on Aug. 19 signed one of the country's strictest laws limiting conditions for police to use lethal force.
The law, Assembly Bill 392, the California Act to Save Lives, was introduced in February by Assembly members Shirley Weber, D-San Diego and Kevin McCarty, D-Sacramento. After intense negotiations involving civil rights organizations and law enforcement groups resulted in some changes to the original text, the measure passed overwhelmingly in the Assembly in May and in the state Senate in July. It will take effect in January.
An earlier version had been introduced in the 2018-19 legislative session, in the aftermath of the police killing of unarmed Sacramento resident Stephon Clark in his grandmother's back yard, and the powerful protests that followed. However, it stalled in committee.
Before AB 392, police could use lethal force if their actions were "reasonable." Under the new law, they can only do so when it is "necessary" to defend human life, while the actions of both victim and police, including police efforts to de-escalate a situation, will be considered when a lethal action is evaluated.
The signing ceremony itself was a moving tribute to the many Californians, largely people of color, who have been wrongfully killed by police. It opened with a prayer offered by Wanda Johnson, whose son, Oscar Grant, was killed by Bay Area Rapid Transit Police in 2009, and closed with Stephon Clark's brother, Stevante Clark, standing next to the governor as Newsom signed the bill.
Weber called the new law "a necessary step to affirming the sanctity of human life and protecting human rights." She thanked not only the organizations that supported the measure, but also the many families who stepped forward after loved ones died from police violence.
"It has been an eye-opener for me," she said, "because I understood somewhat their pain, but I never knew how deep and how permanent that pain was because they lacked justice."
Mark McCoy, whose younger brother, the rapper Willy McCoy – known as Willy Bo – was killed by police as he sat in his car, asleep, outside a Vallejo Taco Bell earlier this year, called his brother's case "a textbook example of where this new law can make a difference." He said the law "offers a ray of solace for my family, and hope that it will spare other families from bearing this burden with us – not just in California but across the country."
State Senate President Pro Tem Toni Atkins, D-San Diego, called the legislation "a testament to California again setting a new standard for our nation." But she cautioned that while the law clearly shows California is acting to improve the safety of all its communities and especially those of color, it "is not a magic fix for the racial tensions that are endemic in our country."
As he signed the California Act to Save Lives, Gov. Newsom also took up that theme, reminding those present that "program-passing is not problem-solving. It's one thing to pass legislation, sign a piece of paper. It's another to change hearts and minds, change culture, change the way people conduct themselves. That's the work in front of us."
When AB 392 was first introduced, it drew intense criticism from law enforcement for changing the standard for use of lethal force from "objectively reasonable" to "necessary," and for requiring consideration of whether police had been criminally negligent or had not exhausted nonlethal methods to handle the situation.
Following negotiations, the measure now says lethal action is only justifiable when an officer "reasonably believes, based on the totality of the circumstances, that deadly force is necessary to defend against an imminent threat of death or serious bodily injury to the officer or to another person," or when apprehending "a fleeing person for a felony that threatened or resulted in death or bodily injury …"The requirement to exhaust nonlethal methods has been dropped.
As a result, most law enforcement agencies shifted their position from opposed to neutral, while some former supporters dropped away.
As the bill was signed, core supporters stressed the importance of the changes it will bring.
Although California "is progressive in many ways," Jennifer Rojas of the ACLU of California pointed out in a statement that "California police officers kill more people than officers in any other state," and "disproportionately kill black and brown residents and people with disabilities."
Rojas said the bill's requirement that courts consider police officers' actions before a shooting to determine if the shooting was legal will make California "the only state in the country to combine the 'necessary' standard with this new requirement."
"Today," she said, "We celebrate this incredible victory while recognizing that our work is not over … we will continue to fight until everyone, no matter their race, is able to live with dignity and free from all forms of state violence."
The Let Us Live Coalition which backed the bill includes the California STOP Coalition, California Families United 4 Justice, Alliance for Boys and Men of Color/PolicyLink, ACLU of California, Anti Police-Terror Project, Communities United for Restorative Youth Justice, PICO California, United Domestic Workers-AFSCME Local 3930 and the Youth Justice Coalition.