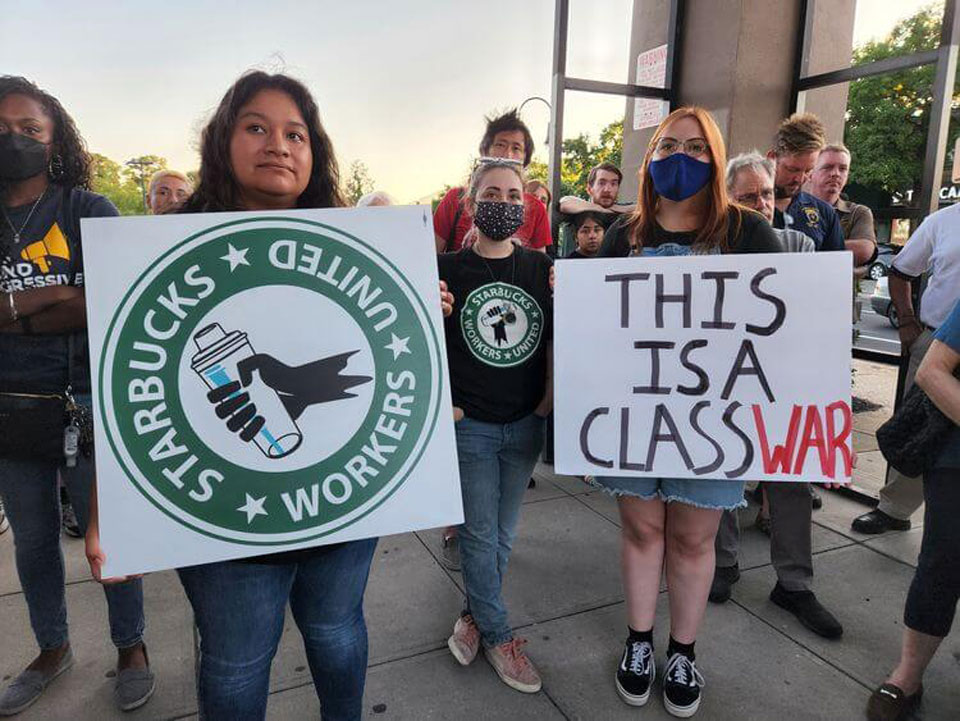 GREAT NECK, L.I. —Starbucks' labor law-breaking at its Great Neck, Long Island, store was so rampant and so continuing the National Labor Relations Board's regional director, Teresa Poor, went to federal court in Brooklyn for an injunction against the coffee giant.
Poor's unusual move was triggered by both volumes of Starbucks' labor law-breaking—formally called unfair labor practices—offenses. They continued even after it beat the union in a 6-5 contested election on May 3 and they could permanently harm the workers, Poor said.
Her move is at least the fifth 10(j) injunction request NLRB regional officials have filed against Starbucks in federal courts nationwide. The 10(j)s, the board's strongest weapon, are reserved for unusual cases where unless judges act immediately, the workers lose.
And several of those 10(j)s against Starbucks demand judges issue injunctions nationwide against the coffee firm and its rabidly anti-worker CEO, Howard Schultz.
The law-breaking is so bad in Great Neck, Poor's papers told the court, that even if the workers and the union helping them, Starbucks Workers United, eventually won a regular NLRB-run administrative law judge's ruling in the case, the harm by then would be irreparable. The board's ALJ has held nine days of hearings on the case, but hasn't ruled on it yet.
All 15 Great Neck workers, led by Joselyn Chuquillanqui, filed union representation election cards in February. Labor law-breaking followed thick and fast, part of Starbucks's vicious response to unionizing drives at its stores nationwide. Three months after Starbucks "won" the vote, it fired Chuquillanqui on Aug. 2. She then went public with local media.
Low pay and lousy working conditions, including job safety hazards, erratic schedules and arbitrary cuts in benefits when stores unionize, haven't stopped workers at more than 260 Starbucks stores nationwide so far from unionizing, SWU reports. Drives are going at hundreds more.
And the Starbucks workers, in turn, are part of the ongoing and rising mass movement of exploited, underpaid, overworked employees, many of them workers of color, women and young, who have had it and revolted against corporate capitalist greed.
Besides the Starbucks workers, they include warehouse workers, port truckers, adjunct professors, college RAs, TAs and dorm resident masters, and Amazon workers. Bosses have retaliated with massive and often illegal tactics. Poors' court papers said that's what Starbucks did at Great Neck. The list of its offenses is as long as your arm, or longer:
Labor law-breaking began with "threatening employees with the loss of opportunities for promotions" if they voted union and continued with threats to yank tuition reimbursement, health insurance and access to managers to address workplace concerns."
The bosses banned workers from making audio and video recordings in the store and more strictly enforced time and attendance work rules, especially targeting Chuquillanqui. Bosses called going union "futile," and declared that once the workers vote the union in, they can't vote it out.
Starbucks also "threatened workers with loss of employment" if they voted union. And it added "they would not be able to improve their wages, benefits and other working conditions" if they voted union. Both statements are obvious violations of labor law.
Bosses alleged the union would force Great Neck workers "to participate in strikes," while automatically deducting dues. They also broke labor law by soliciting worker grievances and promising to solve them if workers defeated the union. Starbucks bosses have made such promises during campaigns at other stores—then did nothing.
Starbucks bosses also illegally quizzed workers about their union views—taking them one-by-one to a back room to do so—and created the impression of spying on the workers. The list went on and on and on for pages in NLRB's filing.
The law-breaking also went on and on even after the union lost the vote and contested the outcome based just on the smaller sample of labor law-breaking before the mailed-in ballots were counted. The last labor law-breaking instance was Chuquillanqui's firing on August 2.
Starbucks's law-breaking hasn't stopped Starbucks Workers United, or, more importantly the mostly young workers, many of them workers of color, women or both, who have started bottom-up organizing at Starbucks stores from coast to coast.
It also hasn't stopped Chuquillanqui.
"We deserve the right to unionize our workplaces and to have safe working conditions without dealing with fear and retaliation," she told Starbucks Workers United. "I'm glad the NLRB was able to file this lawsuit and that this is going to court because we need to send the message that Starbucks cannot continue their union-busting. It proves that what they did to me actually happened and Starbucks can't just erase it because they want to."