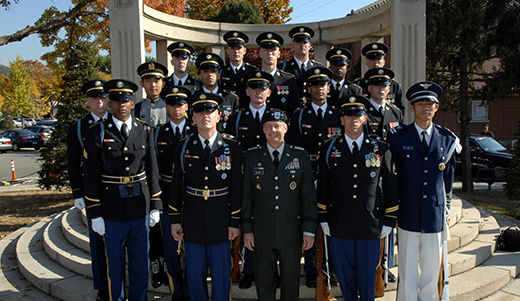 In the latest of a string of policies that will benefit America's veterans, the Obama administration this week announced the creation of a new Veterans Employment Initiative. The measure will make the federal government a "model employer of America's veterans," the White House said.
The program, created by executive order, will open new offices in each of the departments of the federal government designed specifically to recruit and hire veterans. Homeland Security Secretary Janet Napolitano stated that as a part of this new initiative her department would be able to add some 50,000 veterans to its workforce by 2012.
"Honoring our sacred trust with America's veterans," President Obama said in a statement, "means doing all we can to help them find work when they come home so they never feel as if the American Dream they fought to defend is out of reach for them and their families."
"Veterans have shown unmatched dedication to public service," said Department of Veterans Affairs Secretary Eric Shinseki. "They offer leadership and technical skills that are in high demand, whether in the public or private workforce."
"Veterans are an important part of our nation's past, present and future. They deserve our full support as they reintegrate into the civilian workforce," said Labor Secretary Hilda Solis.
In addition to this major new jobs initiative, President Obama late last month signed into law a bill that will help the Department of Veterans Affairs deliver better services, like medical care, by providing advanced funding for its annual budget.
Previously, VA health centers had to ration care to veterans because they wouldn't know ahead of time how much money their facility would get from the federal government each year.
Veterans service organizations had pushed for this change in how federal dollars were appropriated to the VA for the past two decades, a change that both former President Bush and Republican congressional leaders resisted.
The issue was so important to veterans that, as Iraq and Afghanistan Veterans of America Executive Director Paul Rieckhoff wrote in a recent blog post, his organization made it a top legislative priority in 2009.
Wrote Rieckhoff, "With the President's signature, timely, predictable funding for veterans' health care will become the norm … and the VA will be forced to become a more proactive department."
President Obama also included more than $1.4 billion in funding to improve VA hospitals and medical centers as part of his economic recovery act, which he signed into law last February.