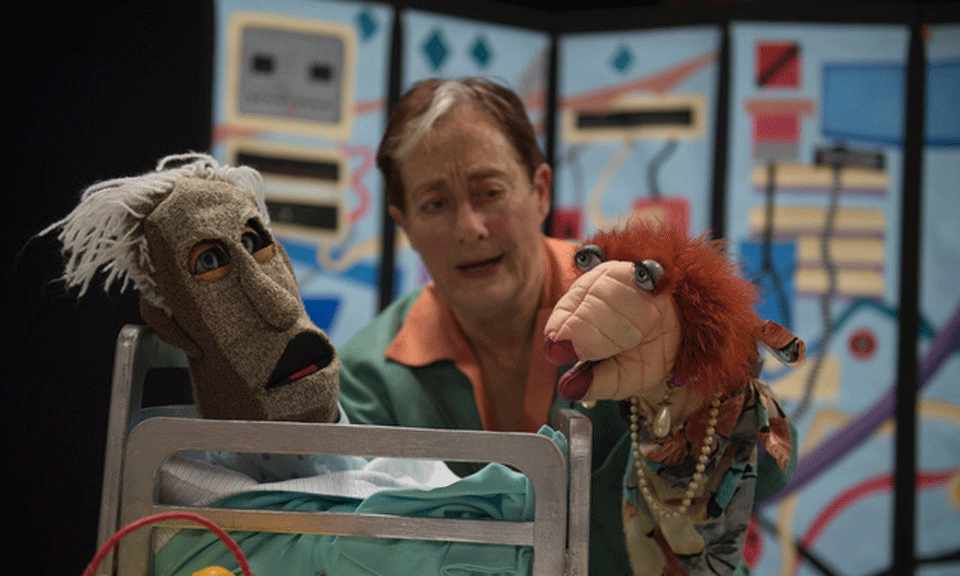 I really didn't mean to write this review of a newly published collection of ten selected plays (1975-2014) by the self-dubbed "slightly world-renowned lesbian playwright" from San Francisco, Terry Baum. But the book sort of dropped in my lap and I couldn't put it down. I'm here to share the exciting news about this milestone publication event.
You see, Terry has been a good friend since 1991, and by the usual standards of journalistic practice, I would for that reason be considered too partisan to write objectively about her work. So with that "full disclosure" out of the way—not to mention that after all, we are openly partisan toward our colleagues, comrades, allies and friends—let's get on with the business at hand.
Terry Baum is not the world's only lesbian playwright. Some of her predecessors include Lorraine Hansberry, María Irene Fornés, and Jane Chambers. There is something of a lesbian theater history, which this volume documents in part, at least as it involves the author. But I do not know of any other writer for the stage whose entire body of work over such a long span comes close to Baum's consistency in treating lesbian themes.
One of the highest values in this volume is the just-right amount of support data and background that accompany the plays themselves: what inspired them, their production histories, the changes from production to production, the personal relationships Baum had at the time, the contemporary state of global politics and the ever-shifting queer movement, as well as Baum's ruminations about the meaning of theater itself.
The other thing to keep in mind is that this is not only the diary of a playwright, but that of an actor also, as she performed in all these works—and is still available for new projects and bookings! This is likely as close as we ever will come to Baum's autobiography, though, who knows? Maybe at some point a formal biography of her might appear.
Such a monograph on the playwright would surely have to include chapters on Baum's two exciting and historic campaigns for political office, first for the U.S. House after her representative, Nancy Pelosi, shockingly voted for the Iraq War. In that 2004 campaign her campaign slogan was "Baum for Peace!"—an ironic modern twist on the old chestnut, "War to end all war." In her second launch for public office, she ran for San Francisco mayor in 2011 (see video) on a people's democratic, anti-gentrification platform, "Tax the Rich!"
The book is suffused with an evident sense of accomplishment across a decades-long career, while at the same time showing moments of self-doubt and -criticism. Fortunately, author and editor were able to review the texts with today's fine comb and revise them to include their latest thinking. Some of the plays have been published before, but the current versions, I suppose, would probably now be considered the authoritative performing texts (though if it's Baum herself on stage, you really can't ever anticipate what's going to happen!).
"Knowing there is an audience out there who cares about my work has made all the difference. Without that, I'm not sure I would've written at all," Baum writes in her Acknowledgements. Making these plays available in readable form is not only a warm thank-you to that audience, but an invitation to acquire new fans and followers of Baum's extraordinary output.
Political and artistic decisions
Baum's plays have been staged around the U.S., and in a dozen or so other countries, sometimes in translation. I was privileged to accompany Terry on a motoring tour throughout South Africa in 2013, where she gave two performances that more or less anchored the two ends of our travels: one in a popular lesbian bar in Cape Town (a mostly white female audience), the second at the University of Witwatersrand in Johannesburg (a young, mostly Black student audience of all genders). Knowing she is far from a household name in world theater, and not even in American theater, she exhibits her playful attachment to fame with the cleverly worded phrase "slightly world-renowned."
Surely, a writer of such intellectual breadth could address almost any subject and any cast of characters, and attempt to breathe life into them on the stage. But when you think about the whole history of theater, out of all the plays ever written, how many (until quite recently) have ever focused on lesbian, or really any LGBTQ relationships? How many have ever dealt with the subject of a queer person's coming-out experience? So it was a political, as much an an artistic, decision to concentrate on this part of life, to create a body of work as a touchstone for her own and future generations. In her 1981 Dos Lesbos: A Play by, for & about Perverts, she has a succession of daughter-and-mother "coming-out" scenes as they might have been rendered in never-written Greek tragedy, Restoration comedy, and American sitcom styles.
Along the way, especially in the early days of women's theater conferences and playwrights' symposia, Baum had to fight hard for a lesbian voice and point of view to be unapologetically heard.
The 1983 play Immediate Family is a solo turn for Virginia, a middle-aged, butch postal worker—a fine portrayal of a working-class character who happens to be lesbian. We catch her at a difficult time: She visits her longtime partner Rose, who is lying comatose in a hospital bed, dying of cancer. But in those days long before same-gender marriage, and even before domestic partnerships, what standing does Virginia have, after decades of living together in what was effective matrimony, to make or even participate in medical decisions for Rose? It was the era of AIDS, when gay men by the hundreds of thousands experienced the same dilemma: no legality. In this play Baum exemplified just how political is the personal. It remains probably the most-produced play in her catalogue to date.
Another work that brings social factors strongly into view is the 1996 Two Fools, about the loving relationship between two women, an American and a Costa Rican. Aside from inherent differences over language, culture and expectations, there is race to deal with, the right to employment in another country, and immigration. Baum's impulse is almost always comedic, and it is here, too, but love alone does not always conquer all and serve up a sweet dessert. Like much of her other work, there is an attitude of revindication, of justice-seeking, that rises above the humor to make its point. It is not at all surprising to learn, as Baum writes, "I am humbled by the courage of the great Henrik Ibsen, my role model. I am a moth flying toward the light of his moon."
Baum is well aware of her own position of privilege in the larger society. Although she has always been a hard-working artist, it's axiomatic that a career in the arts, in particular on the level of lesbian community-oriented theater, ain't likely to pay the rent. She was blessed by the gift of a good education, opportunity to travel and explore, and ongoing parental support.
Nevertheless, there was always that sense of Mom and Dad's disappointment in their daughter who would never give them grandchildren. From their close-up view of her life, or the parts of it they saw, they likely never fully appreciated that their Terry was a heroine foraging radical new paths in theater that would more than slightly influence and inspire audiences throughout the world to greater heights of self-confidence and achievement, and at the same time humanize the LGBTQ experience for those not of that persuasion.
Waiting for the Podiatrist explores many of these family issues. It's set at a hospital where Alex's Father is lying in a coma and is not expected to survive. The two main characters are Alex (the "Terry" daughter) and Mother, who play out their ancient script over Father's bedside. What does it mean to be the "dutiful daughter?" How much identity and self-respect must one surrender to cater to a parent's whims, false hopes and peccadilloes? In this play, there is also a nurse aside from the central Alex character, but with amazing commedia dell'arte invention and skill, the Alex actor also plays the Mother, represented by a puppet on her left hand, and the Father by a puppet on her right.
In many of Baum's plays, music and song play a critical part, and she has often called upon Scrumbly Koldewyn for music and accompaniment. He was in the original 2003 production in San Francisco. Since I am writing this under the terrifying specter of COVID-19, I'd like to share the opening song, with lyrics by David Hyman that remain all too familiar and relevant now. This is actually a duet between Alex and the Nurse, but for the purposes of poetry it's presented here as a unified text:
Whoosh. Beep. Beep.
Whoosh. Beep. Beep.
Quiet halls…Acrid smells
Nice clean walls…Private hells
Pager calls…
It's so intense…Must be Intensive Care.
People nod…People hug
People  plod…People shrug
People sleep…And one finds
People weep…No one minds.
It feels so tense
Must be Intensive Care.
There are so many signs and warnings
It almost takes away my breath
And these are not just idle warnings
Here "life or death" means life or death.
Dials and pumps…Odd machines
Groans and thumps…Behind screens
Friends and kin…Young and old
Hands on chin…Lives on hold
It makes no sense
Must be Intensive Care.
One great hose…Hides a face
Up his nose…Taped in place
Tubes for feeding…Tubes for air
Tubes for bleeding…Tubes…down there.
Don't act shocked…Don't look sad
Keep in mind…He's your dad
Eyes that were…Kind and wise
Now just are…Empty eyes.
Pain so intense…It's too immense to bear
There's no defense…against Intensive Care.
In another family story from 2012 we meet an older lesbian couple, Bubbie and Her Butch. Frannie has come out later in life and has an Orthodox Jewish daughter and grandchildren, who she is concerned will not be so accepting of her partner. In the character of Chris, Baum issues a kind of Butch Manifesto ("Very pissed off," according to the stage direction): "You're asking me to pretend I'm some nice, feminine, unthreatening, well-mannered lesbian lady, when I am an in-your-face proud butch dyke! I'm no lady and I don't wear lady earrings!"
Baum speaks of Bride of Lesbostein as "the only silly play I've written." It has been performed only two times, at Halloween 2013. It is set in "Dr. Lesbostein's laboratory, in a garage in the Mission District, San Francisco"—gentrification is scarier here than any monster! Although offered as a funky lesbian horror sendup replete with all the memes of the genre, including her sidekick Igorina, and of course the manufactured creature made of DNA taken from the best parts of the mad doctor's 34 previous lovers, the play actually has a somewhat wholesome, and sobering, moral. Don't be so quick to prejudge others, either for their virtues or their deficits, because you may find yourself in the end partnered with someone you least predicted you would be happy with.
Culminating with Hick and Eleanor
Plays in the collection are published chronologically, giving the reader the trajectory of an artist's life in progress. The last is the 2014 Hick: A Love Story, based on the extensive correspondence between First Lady Eleanor Roosevelt and Lorena Hickok, a pioneer—and über-butch—"gal reporter" who covered her starting in 1932. These letters (2,336 from Roosevelt to Hickok, willed to the archive after Hickok's death) are preserved in the Franklin D. Roosevelt Presidential Library in Hyde Park, New York. Baum had first learned about Hickok from the performances by the late pathbreaking lesbian monologist, Pat Bond, and later decided to write her own play about this astounding, 30-year love affair which, yes, was, for part of that time, an ardent physical relationship.
Based on historical documentation, Hick broke new ground for the playwright, although it's fully consistent with her previous explorations of the varieties of lesbian life and its intersectionality with the rest of society. If feels like not only a culmination of the book but of a career, a summation of lesbian pride and affirmation in characters no less world-renowned than Eleanor Roosevelt and her lover. Baum has taken this play to festivals and solo theater bookings. In fact, excerpts from this play, still in gestation, formed the centerpiece of Baum's performance in Johannesburg to which I referred earlier. Over time, this may be the one play—if there had to be just one—by which Baum will be remembered. If there is any justice in the world, Hick will one day, before it's too late, be immortalized on screen so that it becomes available to any and all viewers forever.
But it's far too soon to talk about "being remembered." My friend Terry is still very much with us, on stage (when stages reopen), and still very much her own playful character in the throes of San Francisco life.
Baum is effusive, and rightly so, in her appreciation for her 47-year artistic partner Carolyn Myers's contributions, not only to so many of the works included in the book, but toward the book itself. As its editor, Myers, in fact, wrote the elucidating Introduction, and the volume is dedicated to her.
Terry Baum
One Dyke's Theater: Selected Plays, 1975-2014
San Francisco: Exit Press, 2019, 305 p.
$24.95
ISBN: 978-1-941704-15-8