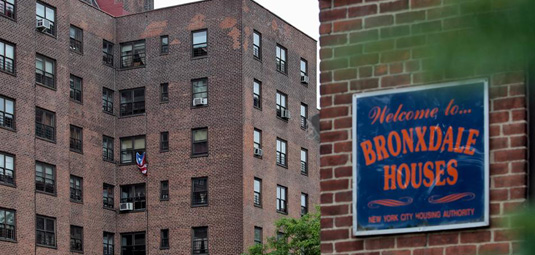 Mayor Bill de Blasio's Housing New York plan promises to address the affordable housing crisis by building 80,000 units and preserving 120,000 units of "affordable housing" over the next 10 years. But the plan is generating considerable resistance from community members, who say that it will usher in more displacement than truly affordable housing.
The plan slates 15 neighborhoods in all five boroughs for rezoning, including East New York in Brooklyn, the Jerome Avenue corridor in the Bronx, the Bay Street corridor in Staten Island, Flushing and Long Island City in Queens, and East Harlem and Washington Heights in Manhattan. Both in these neighborhoods and city-wide, the administration is pushing major changes to zoning rules to let developers construct bigger buildings in exchange for having a percentage of the apartments rent for below market rate.
What are the components of the city's plan?
The plan has two main parts: Mandatory Inclusionary Housing and Zoning for Quality and Affordability.
Mandatory inclusionary housing, sometimes referred to as Mandatory Inclusionary Zoning, would apply to any future upzoning anywhere in the city, whether of a whole neighborhood or just one site. In exchange for more buildable square feet, the developer will be required to set aside a percentage of units as permanently affordable, rent-regulated housing.
The city is proposing three different options for affordability.
Option 1:

Twenty five percent of the housing must be affordable to households earning an average of 60 percent of the metropolitan area median income (AMI). Currently, this would be $46,620 for a family of three, so a two-bedroom apartment would cost about $1,150 a month.

Option 2

: Thirty percent must be affordable to households earning an average of 80 percent of AMI-$62,150 for a family of three, and $1,550 rent for a two-bedroom.

Option 3

: Thirty percent of housing must be affordable to households earning an average of 120 percent AMI-$93,240 for a family of three, with a two-bedroom renting for about $2,330. This option would be available only in "emerging" markets. The city has not yet specified which neighborhoods are "emerging," but it has excluded Manhattan below 96th Street, which is considered a "strong" market.
In the rezoned neighborhoods, the City Planning Commission and city councilmember will choose which of the three options-or a combination-will apply. For example, if a neighborhood is rezoned with Option 1 along with Option 3, it would be the developer's choice whether to go with Option 1 or Option 3 for a building.
Once these rules are in place, neighborhoods would not be able to require a higher proportion of affordable housing or lower rents. The city could only get developers to do more by giving additional subsidies, and it would not be mandatory that developers use them.
Affordable for whom?
Most of the affordable housing created under these plans will be out of reach for those who need it most: the more than 950,000 city households who earn less than 50 percent of AMI, or about $39,000 for a family of three. Under the Bloomberg administration, the majority of "affordable housing" went to households earning between $80,000 and $130,000. Data shows the city has a surplus of housing for families in this income range.
With the lowest-rent option creating housing for families earning 60 percent of AMI, these apartments will not be accessible to the vast majority of people currently living in the first three neighborhoods slated for rezoning. The median household income in East New York as of 2013 was $31,986, about 41 percent of AMI. In the Jerome Avenue area of the South Bronx, it's just $25,000, less than one-third of AMI, and East Harlem's median was 37 percent of AMI as of 2015.
Option 3: market-rate housing?
It should be questioned why Option 3 belongs in a plan aimed to create affordable housing. Households earning 120 percent of AMI are well above the median for New York City, and it would seem, can afford market-rate housing. A $2,300 two-bedroom is market rate in most of the outer boroughs. In East New York, they're going for significantly less, below $2,000. Why should the city give away extra buildable square feet to developers who are building at or even above market rate?
To make matters worse, the high-income Option 3 is targeted for "emerging markets," code for working-class areas where the real-estate market is heating up. This would leave a back-door escape for all developments in these areas and would result in virtually zero affordable housing.
Secondary displacement and gentrification. Fears that the rezonings will unleash a wave of gentrification and secondary displacement of current tenants are well founded. In the South Bronx, which one developer has rebranded as the "Piano District," residential sales prices more than doubled between 2012 and 2014. As long as laws allowing massive increases on vacant rent-regulated apartments remain on the books, landlords will have a powerful motive to drive out lower-rent tenants in the "emerging markets."
Mayor de Blasio knows this and is beefing up protections for tenants in the rezoned neighborhoods-spending $12.3 million on legal aid for tenants facing eviction and sending out "tenant support specialists" to canvass buildings. This is a step in the right direction, but will not be enough.
Double-dipping of subsidies and 421a. As the Association for Neighborhood and Housing Development points out in their white paper "Mandatory Inclusionary Housing: Financial Feasibility and the Current City Proposal," the mayor's plan adds little or no affordability beyond that required by the state's pending 421a law, a 35-year tax break which all the developments would be eligible for automatically. The only significant difference is that the units would be permanently affordable, while 421a only guarantees affordability for 25 years.
No living wage or union labor. There will be no requirements for developers to build with union labor, which would guarantee safe construction sites and living-wage jobs.
What are the alternatives?
The Real Affordability for All Coalition, which Met Council is a part of, is proposing another way to trade increased density and height for truly affordable housing. Called the Real Affordable Communities plan, it proposes an optional density bonus for developers who meet high standards of affordability and job quality. In exchange for increased density, developments will have to be 50 percent affordable for households at or below a neighborhood's median income (a range from 30-60 percent of AMI). Developers will also be required to ensure that a certain percent of work hours for construction be performed by city residents, disadvantaged local residents, and women, and use the building trades unions' apprenticeship program.
ANHD's analysis reveals ways to leverage a larger percentage of affordable apartments and deeper affordability for them. The group says "strong markets areas," most of Manhattan below 96th Street, would be able to support development that were half reserved for people at 60 percent of AMI, or with a smaller percentage reserved for people at 30 percent of AMI.
The zoning decisions being made right now at the local and city-wide level will influence the landscape and character of our city for years to come. Zoning shapes the development of the city. It influences land value, investment and speculation in certain neighborhoods, and ultimately, who can afford to live in them. If we want a city that is affordable to the hundreds of thousands of New Yorkers who are being priced out of their homes, we must be involved in these often complicated discussions, and we must organize to demand that our city resources are used to create truly affordable housing.
This article originally appeared in The Tenant, a publication of New York's Metropolitan Council on Housing.
Photo: Bebeto Matthews/AP