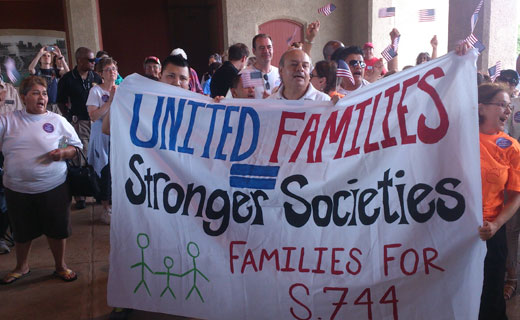 ST. LOUIS, Mo – "We all come from somewhere else. Immigrants are a part of the fabric of America," City Treasurer, Tishuara Jones, told nearly 2,000 immigrant rights activists, union, community, and faith leaders as they rallied here at the Forest Park World's Fair Pavilion on Sunday, June 30.
Jones, whose great, great grandfather was a Missouri slave, added, "Immigrant rights are the civil rights of our generation."
Ivana Aleksic, a Bosnian refugee who left that war-torn country at age three, spoke about the importance of keeping families together. She said, "It's hard to move – to pack-up everything and go to a new place takes courage. You do it to put food on the table, to provide for your family, or to send your kids to a decent school."
She called the United States of America, "the land of opportunity, where everybody is different, yet somehow the same."
At age fifteen, after twelve years, Aleksic was granted U.S. citizenship. She said, "We all have a responsibility to fix this broken immigration system."
Bosnian-Serbians are the single largest immigrant group in the greater St. Louis area; many come over as families. Aleksic's aunt has been waiting eight years to become a citizen.
Towards the middle of the rally Rabbi Susan Talve, from Central Reform Congregation, urged the assembled activists to take out their cells phones and text "Families" to their Congress person.
She said, "They can expect to hear from us until we have the immigration reform we all deserve."
"We are here with you," St. Louis Central Labor Council President, Bob Soutier, told the rally. "The labor movement supports a pathway to citizenship. Missouri supports a pathway to citizenship."
In fact, according to recent polls 72 percent of Missourians support comprehensive immigration reform.
"All Americans living here come from diverse backgrounds and different places, but we are united by a deep respect for those who work for a living and have a shared commitment to the country we call home," Soutier added.
He concluded, "We need change and we need it now."
The Service Employees' International Union (SEIU), the United Food and Commercial Workers' (UFCW) union, the American Federation of Government Employees (AFGE) and the Communications Workers' Union of America (CWA) were among the unions with members at the rally.
The U.S. Senate passed a comprehensive immigration reform bill last week, which included a 13-year pathway to citizenship for the estimated 11 million undocumented immigrants. President Obama has urged the House to also pass an immigration reform bill before the August recess.
With July 4th just around the corner, the rally also had a celebratory, patriotic and forward-looking feel to it, as participants waved American flags and chanted "U.S.A!" and "Sí se puede!"
Ann Haubrich, the Master of Ceremonies, summoned-up the mood of the rally when she said, "We look like America. We are America. America is a nation of values, founded on an idea that all men and women are created equal. We hold these truths to be self-evident that all people have rights, no matter what they look like or where they come from."
The rally was organized by the Missouri Immigrant and Refugee Advocates (MIRA) coalition, Catholic Charities of St. Louis, Metropolitan Congregations United, the ACLU of Eastern Missouri, SEIU and UFCW Local 655.
Photo: Tony Pecinovsky/PW