LOS ANGELES, Calif.—In 2009, when Still Life premiered in New York, author Alexander Dinelaris could not have known that five years later he would be an Oscar-winning co-writer of the film Birdman. He contributed to the book and lyrics for Zanna Don't, which saw a recent staging in L.A. His currently running Broadway show On Your Feet! is a jukebox musical based on the careers of the extraordinarily popular husband-and-wife team Gloria Estefan and Emilio Estefan.
John Perrin Flynn, founding artistic director of Rogue Machine Theatre (RMT), has produced all of this plucky little company's main stage productions, including Dutch Masters and One Night In Miami, earning numerous awards and grants. He selected Still Life, which after New York had received only one or two regional productions, to open the 2017 company season in its belated and most welcome West Coast premiere. RMT is dedicated to producing works new to L.A.
The playwright focuses on Carrie Ann's (Laurie Okin) episodic career in photography that toggles back and forth between moments of wide public acclaim and periods of paralysis. Along the way Dinelaris tackles most of the big issues in life—the price of success, the emotional baggage we carry, the losses we bear, the redemptive power of work, the constant struggle to make this life count for something.
"Like the characters in Still Life," says director Michael Peretzian, "we are all trying to figure it all out, trying to learn as best we can how we can go on. This, for me, is one of the reasons why I do theatre."
In the midst of one of Carrie Ann's down phases, a stranger shows up at a gallery opening and asks provocative questions. We have already met Jeffrey (Lea Coco) in a previous scene—the play rapidly shifts locales and time frames—at his desk. He works at a marketing agency and his task as a trend analyst is to divine the meta-philosophy of our age in order to help sell product. The current campaign is fried chicken, a guilty pleasure we indulge in as unconscious revenge against all the don'ts and warnings of modern existence. "We all want to live," he articulates in a stream of consciousness on the subject that could yield up the germ of the new marketing campaign, "we just need permission."
Jeffrey's alter-ego at work is Terry (Jonathan Bray), an ambitious amoral hedonist whose goal is success at any cost, societal or personal. He thinks nothing of trying to conquer any woman he can lay his paws on, nor firing subordinates who don't deliver. "Life," he has concluded, "is damage control." Still Life was written before The Donald announced any presidential aspirations, but the parallels are clear. As John Flynn states in the program, "Growth has become the American Imperative. We seem to believe that we who are presently alive are not only entitled to all we can take but are compelled to take all we can. It has become an unshakable justification, our new manifest destiny."
Carrie Ann and Jeffrey are both smart, urbane characters who are permeable and resilient enough to allow this new love into their lives. Teetering on the edge of indecision and stasis, both will significantly alter the arc of their lives with the support of the other. Love can have that effect—but will it suffice to heal a whole generation afflicted with anomie?
The play features a generous cast which also includes Joanne (Susan Wilder), a former lover of Carrie Ann's photographer father and now Carrie Ann's manager; Jeffrey's doctor friend Sean (Nardeep Khurmi) who guides him through a difficult health crisis; Carrie Ann's aged father Theo (Frank Collison); and a promising young student Jessie (Tania Verafield) whom Carrie Ann takes under her wing. Alexandra Hellquist and Jennifer Sorenson each play three other female characters with small roles.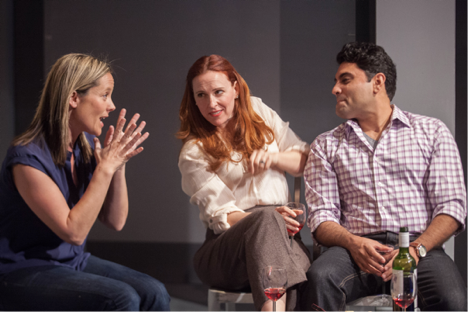 One could say that in this picture Carrie Ann and Jeffrey appear in sharp focus, while the other people more or less blur around them.
Dinelaris further exploits the imagery of chickens and other dead animals. The show that brought Jeffrey and Carrie Ann together contained images of animal corpses, which Carrie Ann shot as her father was dying. It was her way of dealing with the coming loss, an affirmation—giving a second meaning to the play title—that there is still life. In her next show she featured supersaturated, almost human-sized color images of champion fighting cocks, gorgeous creatures with purpose and dignity. Her mentee Jessie compares the chickens to humans in the sense they they're "living every minute wondering when the ax will come down and take their heads off."
All the while, video designer Nicholas E. Santiago has been projecting these artful photographs from each stage of Carrie Ann's career for us to appreciate.
RMT is a deceptive space: You enter up a shabby staircase off an undistinguished side street into a modest reception area. The theatre itself has only 99 seats (the night I attended a section was curtained off, leaving only 70), but the performance area probes deeply into the recesses of the building, allowing sets (Tom Buderwitz) to move on and off stage with relative ease. The quick scene changes are handled efficiently and gracefully.
The company merits applause and praise for bringing Still Life to the West Coast, and perhaps giving it a shot at longer vitality on the stage. Dinelaris has his finger on the pulse of modern existence, the need to create something worthy, and some answers for passion in need of a restart.
Incidentally, I am also especially looking forward to the RMT production of Lorraine Hansberry's Les Blancs, also in its L.A. premiere, which she considered her most important play.
Still Life plays at Rogue Machine (in The Met Theatre), 1089 N. Oxford Ave., Los Angeles 90029, through April 23. Performances are Sat. and Mon. at 8:30 pm, and Sun. at 3 pm. The company's FB page can be viewed here. For reservations call 855-585-5185 or www.roguemachinetheatre.com.
Playwright Alexander Dinelaris will be in L.A. next week so RMT has added a performance on Thursday, March 23 at 8:30 pm, and he will participate in a talk back afterward.