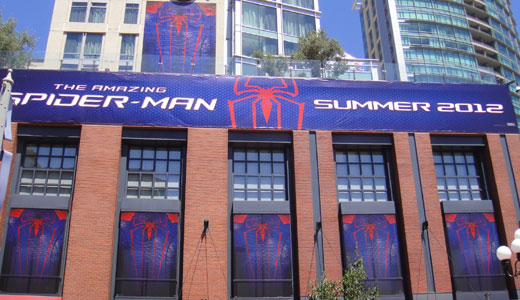 This summer will offer the usual assortment of comic book blockbusters, sci-fi, obscene comedies, reboots, remakes, sequels, and prequels. But within that assortment, there are some real potential gems, some of which will breathe new life into movies, which, many critics have admitted, have been lacking in originality these past few years. Some of the big upcomers include:
The Avengers
Every comic fan's dream, it includes hero icons Iron Man, Captain America, Thor, and the Hulk, and will build on the success of each of those character's own movies. As to how much story this will offer, we don't yet know. But there will be plenty of action, making it an ideal summer crowd-pleaser. And the fact that Joss Whedon is behind this makes it even more promising.
Directed by Joss Whedon
Starring Robert Downey Jr., Chris Hemsworth, Scarlett Johannson, Samuel L. Jackson
Release Date: May 4, 2012
Dark Shadows
This vampire/horror/comedy film will be a fun ride for some, and fall flat for others. Star Johnny Depp will be sure to do something wonderful with this – however, as proven before, Depp can't always save a Tim Burton movie from being lackluster. However, if one enjoys 90s-heyday gothic overtones and a fair bit of camp, this may prove interesting.
Directed by Tim Burton
Starring Johnny Depp, Helena Bonham Carter, Chloe Moretz
Release Date: May 11, 2012
Battleship
Sure to fit the "all form and no content" category to a 't,' "Battleship" is an adaptation of the classic board game by Milton Bradley. Though originally a naval strategy game dating back to the World War II era, it has been inexplicably adapted into a science fiction film involving an alien invasion and lots of explosions. Whether it's more of an insult to games or films is anyone's guess. H.G. Wells must be turning over in his grave.
Directed by Peter Berg
Starring Taylor Kitsch, Liam Neeson, Rihanna
Release Date: May 18, 2012
The Dictator
A mockumentary in the same vein as star Cohen's previous films (Borat and Bruno), it will follow the (comedic) story of a dictator who comes to America. It has been compared to Charlie Chaplin's The Great Dictator in that it reportedly pokes fun at Saddam Hussein in the same way that Chaplin's film parodied Hitler. This one should entertain anyone willing to watch deliberately offensive humor, but also should make us take a closer look at how modern films are increasingly blurring moral lines.
Directed by Larry Charles
Starring Sacha Baron Cohen, Bobby Lee, Megan Fox
Release Date: May 16, 2012
Snow White & the Huntsman
A modern, action oriented adaptation of the classic. Around its name, many products will surely be marketed in the interest of capitalism, filling up stores as this film brings in the same crowd that saw Twilight – young teenagers looking for a pseudo-edgy, vapid fantasy flick. Last year's Red Riding Hood was a critical flop; this film, though, may be saved by Theron's already-praised portrayal of the evil Queen. Unfortunately, this probably means the new trend of fairy tale films will continue. Great for the Hot Topic crowd; bad for the rest of us.
Directed by Rupert Sanders
Starring Kristen Stewart, Charlize Theron, Chris Hemsworth
Release Date: June 1, 2012

Abraham Lincoln: Vampire Hunter
It sounds so bizarre. But those who read the book will look forward to this story of Abe as a, well, vampire hunter. It may be just the splash of refreshment this genre needed, doing for it what Daybreakers did back in 2009. Likely to be a fun film.
Directed by Timur Bekmambetov
Starring Benjamin Walker, Mary Elizabeth Winstead
Release Date: June 22, 2012
Rock of Ages
Anyone into classic/glam rock should look forward to this. Featuring an ensemble cast and the music of Guns 'n' Roses, Def Leppard, and others, this Broadway musical adaptation tells the tale of two people who fall in love during the 80's rock period. Sure to be cheesy, but also a little different – probably in a good way.
Directed by Adam Shankman
Starring Tom Cruise, Julianne Hough, Alec Baldwin
Release Date: June 15, 2012
The Amazing Spider-man
Comic fans will flock to this in droves, but that doesn't automatically make it a shoe-in for the year's best hero film. This grittier reboot of the series looks like it has promise, especially in its fantastic actors, who are all near perfect for their roles. However, it looks somewhat predictable and – dare I say it – a boring rehash of 'same old, same old.' The bottom line is, with contenders like Avengers and The Dark Knight Rises, this iconic superhero just can't pull the same numbers he might have ten years ago. Still, it may ultimately prove to be the wild card of the year's superhero film roster.
Directed by Marc Webb
Starring Andrew Garfield, Emma Stone
Release Date: July 3, 2012
The Dark Knight Rises
Sure to be the action movie of the year, Nolan's final installment in this Batman trilogy will see the crusader facing off against Catwoman and lesser-known villain Bane. What Nolan did with this series was revolutionary, and like its predecessor, this one will not only offer edge-of-your-seat action, but immense social commentary and deep artistry. Sure to be a riveting, emotional, unforgettable experience – something that, ten years ago, no one could ever have thought possible for a movie about a masked vigilante.
Directed by Christopher Nolan
Starring Christian Bale, Tom Hardy, Anne Hathaway, Michael Caine, Gary Oldman,
Marion Cotillard, Morgan Freeman
Release Date: July 20, 2012
Photo: A promotional ad for The Amazing Spider-man. Wikipedia