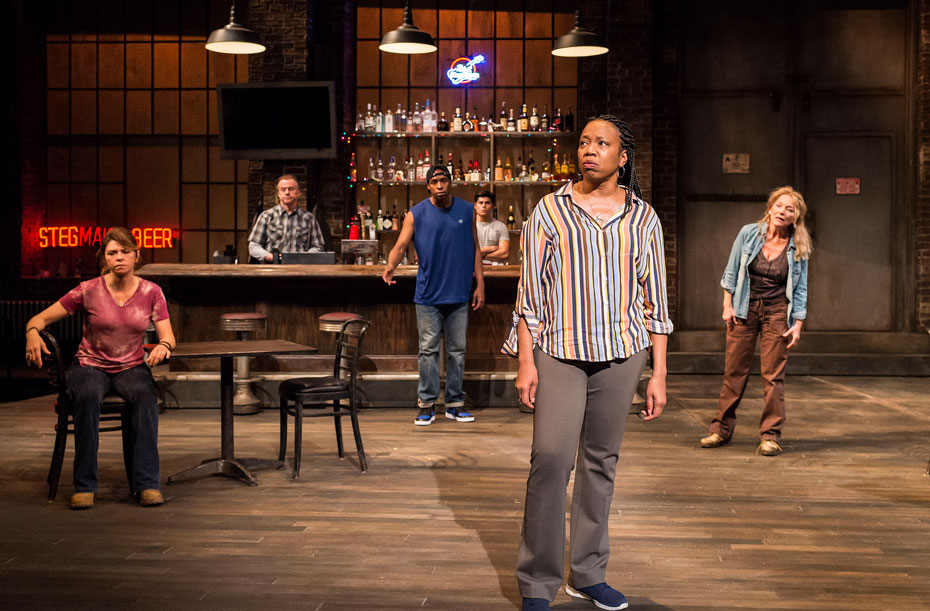 2019 ILCA PW Winner, SECOND PLACE Best Analysis
LOS ANGELES— Lynn Nottage's 2017 Pulitzer Prize-winning Sweat has come to L.A. in a luminous production directed by Lisa Peterson. The play features a multi-generational and multi-racial community of family and friends in Reading, Pa., who have spent their lives sharing drinks, intimacies and laughs while working together on the factory floor of a steel mill. Reading was a thriving town in those times.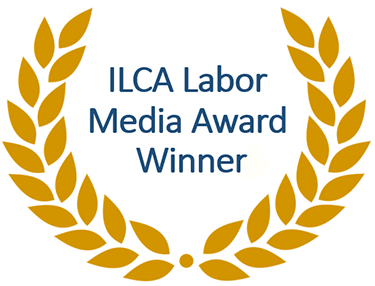 But when pieces of the plant start getting shipped off to Mexico and the layoffs and wage cuts begin, and promotions and picket lines—and alcohol and drugs—start chipping away at their instincts of mutual trust, these old buddies with long histories together find themselves pitted against each other in a heart-wrenching fight to stay afloat.
Right now, especially in these days in the wake of the Janus decision and, as I write, a fifth conservative, pro-corporate Supreme Court justice about to be confirmed, the plight of labor looks dim. Nonetheless there are a few bright spots, such as the rousing electoral defeat of Right to Work (For Less) in Missouri; and progressive gains in the coming midterm elections may serve to put the brakes on some of the worst excesses of the Trump administration.
How did we get here?
Playwrights have addressed labor in many works over the years: Arthur Miller's Death of a Salesman may be America's finest play, and of course we cannot forget Waiting for Lefty by Clifford Odets or Marc Blitzstein's musical The Cradle Will Rock. But there are others: Other People's Money, for example, which over a quarter of a century ago now explored the financialization of American industry, meaning the hollowing out of our productive sector and selling off the assets for profit, leaving communities and whole industries in the dust. The recent Skeleton Crew by Dominique Morisseau treated similar issues in the Detroit auto industry, and now Sweat.
The play takes place in the years 2000 and 2008, showing how amoral, soulless capitalism (though I don't believe I heard the word mentioned) led to the utter destruction of a formerly thriving town like Reading. Obviously the same story replicated itself in city after city, town after town all across America's sorry Rust Belt.
Oftentimes characters in the theatre are meant as stand-ins for certain recognizable types that the playwright chose to include: the overbearing mother and father, the young ingenue, the thwarted lover, the idealist who comes of age, etc. In Sweat we have a cast of the somewhat more "respectable" folk, such as the bartender Stan, his assistant Oscar, and the parole officer Evan, and six gritty, vulgar, hardworking and hard-hit factory workers who are all feisty, irascible survivors. But none of them are "types." They are all sharply characterized individuals with depth, history, and their own indelibly etched experience of life.
Each of them has their own strategy for getting through—for some it's drink and drugs, for one it's the dream of college, for another reveries of missed opportunities for travel and escape, and for one of them who will be anointed, the prospect of a promotion up from the floor to lower-level management.
As the play unravels, so do lives and communities. If the one Latino in the cast gets work, it's regarded as taking a job away from the whites (and without spoiling anything for theatergoers, there happen to be good reasons for them to think so). If a woman of color gets a promotion, it's interpreted as a slap to the whites who have worked that floor for three generations.
To a more astute observer the company strategy seems transparent: to exacerbate racist antagonism among the workforce. In fact the woman promoted—"I worked hard to get off that floor" into an air-conditioned office with a desk— wonders "if they gave me this job on purpose." But on the ground, and without the benefit of a coolheaded ideological guide, it's all personal—blind rage and resentment for decades of mistreatment and alienation transferred onto the heads and bodies of the wrong culprits.
The Steelworkers Union is offstage, but all the plant employees are members. During a long strike, the union supplies grocery bags and supermarket vouchers. The workers dutifully put in their shifts on the picket line. Did the union fail by holding the line in contract negotiations, or should it have accepted brutal concessions for the factory to stay in Reading a few more years? These are unanswerable questions, and Nottage doesn't presume to offer an opinion. But clearly the message has to be that labor must, with its allies, seek to gain not only political office but political power. Maybe capitalism itself is irredeemable, she seems to be saying, if all it leaves in its wake is a toxic field of despair, debt, drugs, and decimated lives—or as Stan the bartender calls it, "the human cost of making their shitty product."
In the year 2000 scenes there is some reference to the coming presidential election without focusing on who won. And in the year 2008 film clips, in the almost overwhelming video projection component of the production, we see George W. Bush fatuously commiserating with the American people over the hard times his own deregulatory policies inevitably brought about.
Curiously, though, I didn't see any reference to the historic 2008 election. But if I read the play correctly, I think Nottage is trying to tell us that for large segments of white Americans fed up with the crumbling of their promised security, the stage had been set to place the anger onto "upstart" people of color whom they singled out as not true Americans—and remember, please, who carried the banner of the "birther" movement higher than anyone in those years: none other than a racist, self-promoting real estate mogul from New York City. The idiotic vision of Sarah Palin a heartbeat away from the presidency might have motivated enough swing voters to either stay home or cast their vote for America's first black presidential candidate, but the seeds of know-nothingism at the highest political levels had been sown. And look where we are now.
The cast is simply incredible, every one—Kevin T. Carroll, Grantham Coleman, Will Hochman, John Earl Jelks, Mary Mara, Peter Mendoza, Michael O'Keefe, Amy Pietz and Portia. And what is so beautiful, amidst the dregs, are those frequent lyrical moments throughout the play when these struggling people fleetingly light up the stage with their personal poetry.
The evocative set design with the local bar where workers gather is by Christopher Barreca. Costumes are by Emilio Sosa, lighting by Anne Militello, sound design by Paul James Prendergast, and projection design by Yee Eun Nam.
This is not "feel-good" theatre, but it is down-and-out real, sinewy, rough and true. It shouldn't be missed.
Sweat continues at the Center Theatre Group/Mark Taper Forum through October 7. For tickets and information, please visit CenterTheatreGroup.org or call (213) 628-2772. The theatre is located at 135 N. Grand Ave., Los Angeles 90012.