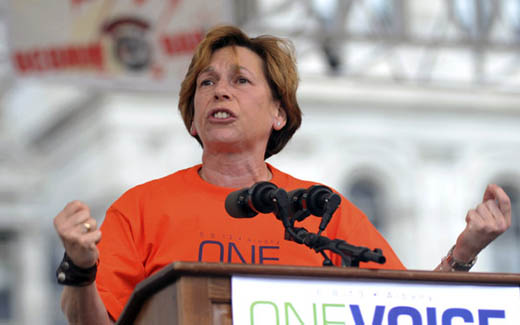 WASHINGTON (PAI) – Leaders of the nation's two large teachers' unions are split on a bipartisan effort by a key Senate committee to rewrite the federal aid-to-education law.
Lilly Eskelsen-Garcia, president of the independent 3.2-million member National Education Association, says the rewrite doesn't do enough for the kids who need federal help the most – students coming from families in poverty.
Meanwhile, Randi Weingarten, president of the 1.6-million-member American Federation of Teachers, an AFL-CIO affiliate, says the senators' rewrite at least returns the federal law to that focus on poor kids. Weingarten, a New York City middle school teacher, calls the draft rewrite "an important first step" in restoring federal education law's goals.
A third union, the American Federation of School Administrators, also an AFL-CIO affiliate, is cautious about the Senate panel's action. But AFSA President Diann Woodard also had her members stage a national call-in on Apr. 8 to protest current federal education law's emphasis on test scores as a be-all and end-all for evaluating schools, teachers and kids.
Other than that, AFSA seeks an earmark for more funds for principals. It cites studies showing sound administration, with the ability to set goals and mentor teachers, is second only to good teaching in determining student performance.
The Senate committee started to work on the rewrite on Apr. 14, toiling its way through dozens of amendments by senators from both parties. Panel Chairman Lamar Alexander, R-Tenn., and top Democrat Patty Murray, D-Wash. – a former pre-K teacher – lead the effort to replace the 2001 No Child Left Behind (NCLB) act. The hyper-partisan GOP-run House Education and the Workforce Committee passed its own NCLB rewrite, which is dead in the water for now.
"This bipartisan compromise is an important step toward fixing the broken No Child Left Behind law," Murray said. "While there is still work to be done, this agreement is a strong step in the right direction that helps students, educators, and schools, gives states and districts more flexibility while maintaining strong federal guardrails, and helps make sure all students get the opportunity to learn, no matter where they live, how they learn, or how much money their parents make."
Teachers, parents, unions and groups across the ideological spectrum condemn the Bush-era NCLB and its emphasis on teach-to-the-test, using test scores as the sole standard for whether a school passes or flunks and gets federal aid for the poorest students. NCLB also produced skewed results and outright test cheating, in D.C. and Atlanta, to name two cities.
All that led Eskelsen-Garcia, a 5th grade teacher from Utah, and her union to again advocate returning federal education law to its initial 1965 focus, on federal aid to help the
poorest kids catch up – and through an "opportunity dashboard" of measurements of how well the kids, their teachers and their schools are doing. The Alexander-Murray measure lacks it.
"Since enactment of NCLB, test scores have been used to punish, close, and remove resources from the schools that needed them the most," NEA says on its website. "And what did this punitive, one-size-fits-all approach to accountability get us? Rising opportunity gaps and students, educators, and schools that are penalized rather than supported.
"The idea of using a sole metric – test scores – to measure student outcomes was doomed to fail for a host of reasons, not least of all because lawmakers ignored a critical step: Providing students in high poverty schools with the necessary supports and resources to help them learn.
"Doing so, however, requires knowing what indicators determine the level of opportunity available to a student," it says. That's where the dashboard comes in and where the Murray-Alexander bill falls short, NEA adds.
Like a car whose health is measured by meters on its dashboard, "A school runs best when students have a wide array of learning opportunities available to them regardless of zip code. And if a school is having problems, the reasons will be revealed in the opportunity dashboard that will show which critical resources are missing," NEA says.
"Accountability under a new" federal school aid law "should revolve around, instead of test scores, indicators measured by the Opportunity Dashboard and address one simple question: Is a school receiving a large enough infusion of resources to educate all of its students and to pay for the interventions necessary to help close achievement gaps?"
NEA also wants the feds to make states responsible for helping schools with high numbers of poor kids, not just letting the schools flunk and yanking federal money.
The Alexander-Murray rewrite doesn't achieve those goals, Eskelsen-Garcia told the Washington Post. "We've been talking about this to every senator we can," she added. "It is time for accountability to mean that all kids are getting what they need. This is not an end game, this is the beginning of the fight."
Weingarten differs. "We called on policymakers to reclaim the original purpose" of federal education aid "to help children, particularly those at risk, and to end the testing fixation. In a bipartisan manner, Sens. Alexander and Murray took an important first step by showing that, even in this current climate, one can find common ground by listening to teachers, parents and other important voices in education.
"Their framework restores" federal education aid law's "original intent of mitigating poverty and addressing education equity. It moves away from the increasingly counterproductive focus on sanctions, high-stakes tests, federalized teacher evaluations and school
closings. And it will help return the joy of teaching and learning that's been missing as a result of testing and test-prep fixation in too many classrooms," Weingarten said.
"This is just the beginning of a process. The road is long, and many issues still need to be addressed. But this bipartisan Senate framework is significant. We're seeing a glimmer of hope in this reauthorized bill, one that's in the tradition of providing resources for those with the most needs and enabling all of us to do what's right for our kids," she concluded.
Photo: Randi Weingarten. | Shannon DeCelle/AP