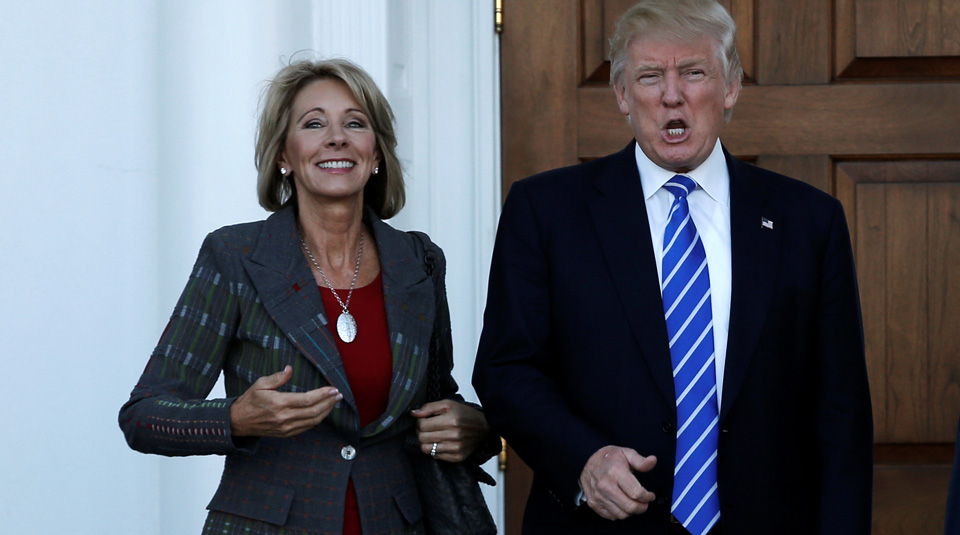 Saying Republican President-elect Donald Trump's nominee Betsy DeVos, a Michigan billionaire, hates public schools and teachers, the nation's two big teachers unions launched a campaign to stop the Senate from confirming her to head the federal Education Department.
And the Senate's most-prominent former teacher, Sen. Patty Murray, D-Wash., is skeptical about DeVos, too. Murray is the top Democrat on the Senate Health, Education, Labor and Pensions Committee, which will hold a Jan. 17 hearing on DeVos.
DeVos' family became rich through Amway, a thinly veiled direct sales scheme which has been cited for paying new clients out of proceeds from old ones. She now runs other enterprises. She's also a former chair of the Michigan GOP and a big party donor.
She's better known in Michigan for fierce opposition to public schools, her campaign to get the GOP-run state government to eliminate teacher tenure and her advocacy of charter schools with no oversight and taxpayer-paid vouchers for parents of private school students.
That record prompted both American Federation of Teachers President Randi Weingarten, a high school history teacher from New York City, and National Education Association President Lily Eskelsen-Garcia, a pre-school teacher from Salt Lake City, to announce their unions' strong opposition to DeVos.
Weingarten devoted much of a Jan. 9 wide-ranging speech on education policy to the DeVos nomination. Eskelsen-Garcia's union has asked its 3.2 million members to call or e-mail their senators against DeVos. AFT has 1.6 million members.
DeVos "is the most anti-public education nominee for Secretary of Education in the history of the department and lacks the necessary qualifications and experience to be the nation's top education official," Weingarten said.
"DeVos hasn't taught in a public school. She hasn't served on a school board. She never attended public school — nor did she send her kids to one. She's a lobbyist, not an educator.
"DeVos worked in Michigan to undermine public schools and to divide communities. And now she's poised to swing her Michigan wrecking ball all across America."
Besides the voucher schemes, Weingarten reminded her listeners that DeVos' charter schools – unlike similar charter schools elsewhere – lack accountability. As a result, DeVos' showcase charter school system, in financially troubled Detroit, produces worse education for the kids. And the Detroit system also lets failed charter schools open more schools, she said.
"What is the result of all this? Student performance has declined across Michigan. Nearly half of all its charter schools ranked among the bottom of American schools."
"Before you try to do what you did in Michigan to the rest of the country, see firsthand the potential and promise of public education," Weingarten challenged DeVos.
On its website, Eskelsen-Garcia's NEA listed key reasons senators should reject DeVos. She called DeVos "a lobbyist and political donor with no education experience. DeVos has never served as a teacher, a school administrator, or a school board member"
The NEA's message to members notes other organizations call DeVos, based on the evidence, "a four-star general in the privatization movement." Their reasons include:
DeVos and her husband have spent millions of dollars promoting vouchers, including $5 million in a 2000 state referendum campaign. Voters rejected vouchers by a 2-to-1 margin.
Her role in designing "Detroit's failed charter school system. "The unchecked growth of Detroit's charters has outpaced the student population and is failing the city's kids, who are among the poorest in the nation. According to a recent report, eight in 10 charters had academic achievement below the state average in both reading and math," NEA's analysis says.
Her support for the 2011 measure the GOP-run legislature passed that lets failing charter schools to expand.
DeVos' opposition to oversight for charters, channeled through a family funded Great Lakes Education Project. The project successfully lobbied to kill a planned oversight board for Detroit's charter schools.
"We challenge Congress to take a bold stand against efforts by ideologues, corporations, billionaires and hedge fund managers to undermine and privatize public education and harm our students. Lawmakers have to resist the temptation to substitute the will of special interests for the experience and expertise of educators, the ones who know the names and faces of the students across the country," Eskelsen-Garcia said.
Diann Woodard, president of The School Administrators, who represent principals and similar officials, spoke out against charters, too, but without singling out DeVos. "We must wage a war on behalf of children," Woodard said.
"In addition, now that Pandora's box has been opened on unmonitored and poorly regulated charters and vouchers, we need the president to curtail them and subject them to the same rigorous standards governing our public schools.
"Our poor underprivileged are desperate for the president's help, and ours. They live in districts that are struggling and in states that are failing to put forth anything close to their best efforts to fund public schools.
"By using the first 100 days to restore public education and demanding that states become more accountable for the use of federal funds, the new president will be sending a clear message of hope to our students that equality for all no longer will be ignored."