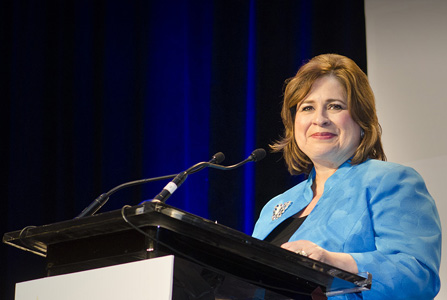 DALLAS – In distance, the Texas Republican convention was separated from its Democratic counterpart by about 35 miles, from Fort Worth to Dallas. In time, the two conventions were separated by about one month. But they were separated by several light years in politics and program. Texas Democrats put fair wages, spending on education, gender equality, immigration reform, LGBT rights, anti-outsourcing, and anti-privatization at the top of their priorities at their convention here June 27-28. The Republicans were for lower wages, cutting education spending at all levels, privatizing, and deprogramming gays!
Although Dallas Mayor Mike Rawlings declared himself a Democrat in his welcoming speech, the convention passed a resolution against the school privatization that Rawlings champions. Rawlings and a handful of local politicians, backed by a Houston billionaire and other big money, expect to pass a "home rule" initiative in the November elections. It would turn the entire public school district into charter schools.
Senate candidate David Alameel attended the Fair Trade Caucus where he strongly opposed the Trans-Pacific Partnership. Alameel blamed Democrats for having passed NAFTA and pledged himself to fair trade. He told the convention, "We have to stop Washington from working for Wall Street and start helping the people!" Like many of the speakers, Alameel used a lot of Spanish phrases in his speeches. "Es un hipocrita!" was the way he described his opponent, Republican Sen. John Cornyn.
Congressman Joaquin Castro told the convention, "Ours is a party that is dedicated to fixing schools, not gay people!" State Rep. Trey Martin Fisher said that Jesus was an immigrant.
A small but welcome blessing at the convention was the end of the misuse of the term "middle class." Governor candidate Wendy Davis and most speakers used "hard working Texans" several times instead. Nobody used old derogatory terms, instead referring to "our brothers and sisters in the LBGT community" or "our brothers and sisters without documents."
Lieutenant Governor candidate Leticia Van de Putte, a state senator from San Antonio, even more than the vivacious Wendy Davis, was the star of the convention. Her very personable campaign video was hilarious.
It takes place in her kitchen where, surrounded by 20 or 30 family members, Van de Putte massacres a roast chicken, piece by piece, while explaining Republican cuts to state budgets and social programs. Van de Putte's mother announced that 28 family members were campaigning at the convention.
Wendy Davis, currently a state senator from Fort Worth, also used family members to campaign. Her two daughters introduced her with "Ten Top Reasons That Our Mother Should be Governor." One of their reasons referred to the Texas myth that the candidate with the best hair always wins the governor's race. Governor Rick Perry is laughingly referred to as "Governor Good Hair," but Davis' long blonde locks far outshine him.
Davis and other speakers had a good time taking potshots at their Republican opponents. There are several ongoing corruption scandals, but the far-right "tea party" nature of the Republican ticket gave them the best opportunities for searing satire. Wendy Davis referred to her opponent Greg Abbott, the current attorney general, as having distinguished himself with an incredible number of failed lawsuits against the federal government. Abbott particularly likes to sue the EPA in defense of the right to pollute. He had just lost four lawsuits in the past few days, Davis said. She continued, "If he were your lawyer, you would fire him on the spot. In fact, he is your lawyer and we are going to fire him in November!"
Democrats predicted victory for themselves and victory for Hillary Clinton as president in 2016. The polling numbers don't support them, but polls are based on "likely voters" based on previous voting records. State Democratic Party Chairman Gilberto Hinojosa said he already has 70 organizers combing the state for voter turnout. Rep. Martinez Fisher said, "This year, the number of Latinos turning 18 and eligible to vote will outnumber the Anglo voters by 40,000 votes." He also said that a 1/3 Latino turnout would win every Texas race for the Democrats.
Photo: State Sen. Leticia Van de Putte, Democratic candidate for lieutenant governor. Jim Lane/PW