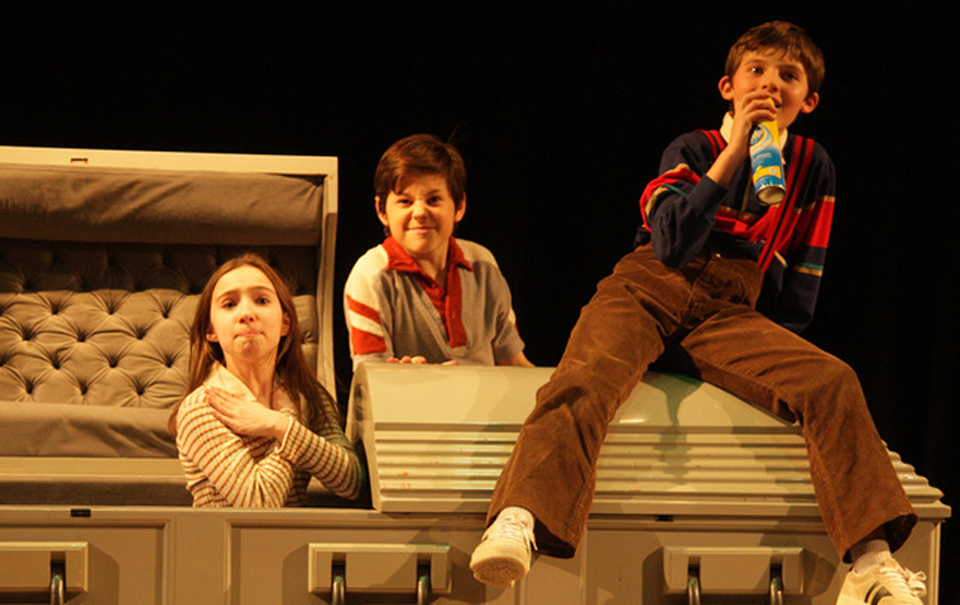 ANAHEIM, Calif.—The out-front-and-center lesbian coming-of-age musical Fun Home premiered Off-Broadway in 2013 at The Public Theater, then opened on Broadway in April 2015, and earned a dozen Tony nominations, winning five Tony Awards, including Best Musical.
Following 582 regular performances on Broadway, the show's national tour began in October 2016. It was called "the first mainstream musical about a young lesbian." I caught up with it at the Ahmanson Theatre at the Music Center in downtown Los Angeles and reviewed it in February 2017.
I know that most of my readers are not in the Los Angeles area and are usually not available to attend performances that I review. That's why I pitch my writing more toward a thematic appreciation of the work, rather than a performance review, so that readers in other parts of the country and the world can be informed as to how artists are confronting the critical issues before us. Some of these works make their way to other cities, and readers may have a chance see them—or they've already been there and it's only now that I've had the chance to see them here.
With that in mind, I often pass over local productions of Shakespeare or Ibsen or Arthur Miller or Lillian Hellman, all highly socially conscious playwrights, because these are familiar properties to theatergoers and I'm not convinced I have much especially revelatory to say about them, unless there's something particularly unique about the production that makes it worthy of notice. But it's not a hard and fast rule.
I make exceptions for Jeanine Tesori, the most prominent and prolific woman composer for Broadway now or ever. Apart from Fun Home, some of the other works she has written include Shrek the Musical, Violet, which I first encountered at Chance Theater in Anaheim and then again a few months later in Hollywood, and Soft Power. I've also seen her civil rights-themed Caroline, or Change, written with Tony Kushner, which sadly (and unfairly) did not do well on Broadway and I didn't get the opportunity to review, but which now, on the smaller theatre circuit, I believe is making something of a comeback as Tesori's renown spreads.
It's been proven many times over that bigger is not always better. Yes, part of theatre is spectacle and public ritual, but often it's in the smaller venues that we get to know the characters more intimately, seeing and hearing them up-close. A perfect case study of this principle is the new smaller theatre version of Fun Home (seen opening night, Feb. 8), playing through March 1 on the Cripe Stage at Chance Theater @ Bette Aitken theater arts Center in Anaheim.
Tesori scored the book and lyrics by Lisa Kron. It's based on Fun Home: A Family Tragicomic​, a 2006 graphic memoir by American cartoonist Alison Bechdel, author of the syndicated comic strip "Dykes to Watch Out For" (1983-2008). Both stage musical and graphic novel chronicle Bechdel's childhood and youth in rural Pennsylvania, focusing on her complex relationship with her brilliant but enigmatic father while addressing themes of sexual orientation, gender roles, suicide, emotional abuse, dysfunctional family life, and the role literature plays in helping people understand themselves and the world.
The setting is the family manse, a small-town mortuary and funeral home that the father, Bruce Bechdel (Ron Hastings), has inherited. He also doubles as a high school English teacher and a fastidious restorer of old homes. The story is related through a series of vignettes connected by narration provided by the character representing Alison Bechdel as an adult (Ashlee Espinosa) as she looks back on her life.
One of the most innovative aspects of the musical is that Alison has three avatars, for aside from the adult and "out" cartoonist/memoirist, we also meet her as a young child (Holly Reichert), maybe 8 or 9, only incipiently aware of her attraction to handsome, butch women, and as an Oberlin College student (Madelyn Velasquez) just beginning to acknowledge her lesbianism. One of most thrilling musical highlights of the score is the final trio of the three Alisons.
The stage is set in a long rectangle with the audience seated in three rows on either side—quite a different perspective on the action than sitting in a large house with balconies in front of a proscenium stage. Director Marya Mazor keeps her performers constantly on the move so that no one would be standing still delivering dialogue or lyrics to only one segment of the splayed-out audience. Music direction by Lex Leigh, with his band at one end, was expert, featuring only himself on keyboard, Jimmy Beall on bass, Isabella Pepke on cello, and Jorge Zuniga on drums. I did not find the musical accompaniment thin or weak in any way; it was completely adequate and satisfying.
I'll make another couple of points about smaller theatre productions: If the acoustics are well managed, and they are here, with every performer adroitly miked, words come through in a way that they often do not in larger houses with more reverberation and a boxier sound. I recall, for example, the trio of treble-voiced children—Small Alison and her brothers Christian (Reese Hewitt) and John (Christopher Patow)—singing their number "Come to the Fun Home" about coping with their squeamishness living in a mortuary. At the Ahmanson two years ago I could barely understand a word of it, but here, almost all of it came through loud and clear.
In an expansive house, especially in a big Broadway show on tour, casting tends to favor well-tempered, trained voices with broad commercial appeal. At Chance, the mature, middle-aged parents, the controlling Bruce and the long-suffering Helen Bechdel (Jennifer Richardson), are what I would call singing actors more than acting singers. Their showstopper numbers—"Days and Days" for Helen and "Edges of the World" for Bruce—are intense inner reflections on life failures that it turns out do not require the polished, soaring vocalism that Broadway demands. They can be equally effective on the small stage just a few feet away from you, with the audible scratch in the throat, the lyrics poignantly hovering between speech and song. Neither interpretation, big or small, is better or worse; they're just different for distinct production styles.
Needless to say, a second viewing can reveal aspects of a work that weren't so salient the first time. For example, hard as it is to learn and then accept and assimilate the family secrets (that almost every family has to a degree), how do we title them in a few words to name our complex, difficult feelings and the memory of them? The first time around I did not pick up on the importance of the adult Alison struggling to find the right caption for her drawings, but it turns out to be a key element in the telling. What few words are able to summarize the depths of confusion and help create more clarity?
On a personal note, I found this outing with the show different also in that I saw it with a high school girlfriend of mine, now visiting in Southern California. I was reminded how at 17 and 18 I was struggling myself with some of the same issues as Alison, and her dad as well, incapable of even identifying my feelings or anyone with whom to share them, much less understand how to live and prosper with them.​ The vulnerability of the characters on stage echoed so many of my own insecurities at the various ages depicted.
Another aspect of the book that I was able to appreciate more viscerally the second time around is the theme of flying that starts off with Small Alison balanced on her father's feet up in the air, her arms in airplane mode, and returns in different iterations throughout the musical. The very last line of the show, signifying her ability as a grown woman to overcome her earlier traumas, is a terse caption loaded with portent: "Every so often there was a moment of perfect balance when I soared above him."
An additional stand-out that I didn't quite put together before is the symbolism of the dilapidated old house that Bruce purchases to work his restoration magic on. It represents all the damage that's been done by time, and how much work it will take to repair. But unlike Alison, he was incapable of giving himself sufficient space or time to complete the job—too much "to keep under control." We know, of course, of many adults, both men and women, who took the conventional course in life—marriage, kids, maybe a job they hated—and only later came to terms with themselves and made successful transitions to become more authentically themselves.
​Bradley Kaye's scenic design emphasized Bruce Bechdel's fastidious taste in décor, with just a few, but crucial items of furniture on the stage, including Alison's movable drawing board. ​Ryan Brodkin's sound design kept the voices distinct and audible even as the performers turned in every direction.​ Andrea Heilman ​provided the lighting, and ​Bradley Lock the costumes.
Other cast members include Matt Bolden as a series of young men whom Bruce is attracted to, and Ketino Christopher as Joan, Alison's first girlfriend at Oberlin.
​Fun Home plays through March 8 on Thurs. at 7:30 p.m., Fri. at 8 p.m., Sat. at 3 p.m. and 8 p.m., and Sun. at 3 p.m. Fun Home​ contains adult language, themes and content, and is recommended for those age 13 and up. It runs 100 minutes without intermission. Chance Theater is located at 5522 E. La Palma Ave., Anaheim 92807. For tickets, call (888) 455-4212 or visit www.ChanceTheater.com. Discounts are available for children, seniors, students and military.
I can't recommend this production highly enough. Terrific work all around.