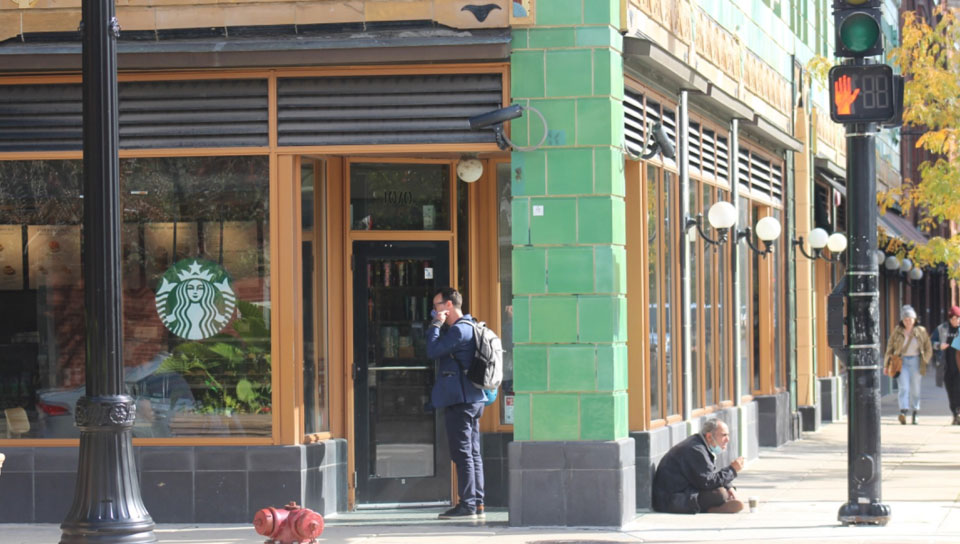 As Starbucks workers win union elections across the country, the company moves to curb their success. On Chicago's North Side, Starbucks permanently closed a unionized store Oct. 30.
Workers at the Edgewater location — who had voted 10-1 in favor of a union in May — had requested Starbucks meet them at the bargaining table beginning in October, just before the company announced the store would be closing.
It is the tenth store with union activity shut down in recent months, Starbucks Workers United said in a statement.
"The biggest problem with this decision is the fact that it is quite literally busting our union," RJ, a member of the store's organizing committee, said in a statement from the union.
While Starbucks and the union reached an agreement to transfer all of the store's workers to other locations, those workers will be moved without a contract and without union status.
"We all will get transferred to surrounding stores with our preferences in mind, but there are still questions about how many hours we will have and how we will be compensated for travel to our new stores," RJ said.
Starbucks said it closed the Edgewater store due to ongoing safety issues.
"When [training, policies, and information] aren't enough to ensure our partners' safety, we will make the decision to close a store, regardless of its revenue or union status," a Starbucks spokesperson said in an email.
The union said the store had faced safety issues for years without any action from Starbucks.
"A shocking proportion of Starbucks stores that Starbucks has claimed to close for 'health & safety' reasons in the past few months have been stores with union activity," it said.
At other shops, Starbucks and the union initiated contract negotiations before company representatives walked out of five separate meetings in late October—a move Starbucks Workers United criticized as another example of bad faith bargaining from the billion-dollar corporation.
"The store's closure leaves partners and customers alike the victims of Starbucks' latest union-busting tactics," Starbucks Workers United said.
Statement from Starbucks:
Thank you so much for reaching out. Below please find our on-the-record perspectives which can be attributed to a Starbucks spokesperson.
"Starbucks informed both partners and the union of plans to close the Bryn Mawr and North Winthrop store effective Oct. 30 due to ongoing safety issues impacting customers and partners.
"We continue to equip our partners with the training, policies, and information they need to address the societal challenges that cross our store thresholds every day. But when these efforts aren't enough to ensure our partners' safety, we will make the decision to close a store, regardless of its revenue or union status.
"Starbucks and Workers United reached an agreement that places all partners at the Bryn Mawr and Winthrop store at other agreed upon stores in the area."
Thanks,
Lauren
Starbucks Media Relations
Statement on bargaining by SWU:

"This week, workers experienced bad-faith bargaining from Starbucks when corporate lawyers walked out of meetings across the country over a previously approved hybrid bargaining method. Attending bargaining meetings requires at least three weeks advance notice in order to request unpaid time off, acquire transportation, and more in connection with the health and safety of workers through a continued pandemic. Hybrid bargaining expands access to workers who hope to safely attend bargaining when in-person meeting is not an option; an expansion of accessibility that is precisely what the company hopes to avoid."
The closure occurred three weeks before workers at more than 100 Starbucks stores nationwide —including Chicago stores in Bucktown and at  Ridge Avenue and North Clark Street—staged a 1-day "Red Cup rebellion" on Nov. 17. They walked out to protest the firm's refusal to bargain in good faith. News reports said Starbucks could not accept that many workers participated via zoom in hybrid bargaining. The "red cup" day refers to special holiday-themed red drinking cups Starbucks introduced the same day.