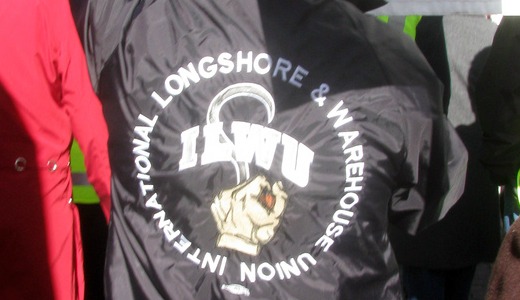 Hundreds of longshore workers marched on the port in Longview, Wash., Sept. 8, past security guards and then dumped grain after removing it from rail cars. In Seattle and Tacoma, meanwhile, a wildcat strike shut down both ports after hundreds of longshore workers failed to show up for work this morning.
Six guards were held for two hours after 500 workers at the Longview port pushed open gates early in the morning and broke some windows in a guard shack, according to the town's police chief, Jim Duscha.
No injuries or arrests were reported in any of the actions this morning with protesting workers returning to the union hall after they spilled the grain at the EGT terminal.
The International Longshore and Warehouse Union says that the current contract gives it the exclusive right to work at the facility. The company has given jobs to a contractor that is filling positions with a workforce from another union.
The actions in Tacoma and Seattle are described as wildcat strikes because, as of this afternoon, there has been no formal action called by officials at union headquarters or at the local level, said ILWU spokesman Craig Merilees from union headquarters in San Francisco. "It appears members have taken action on their own," Merilees said.
Another union officer said, on condition of anonymity, that the wildcat strikes were a reaction to a photograph circulating on the Internet of ILWU President Bob McElrath in police custody yesterday in Longview. "I think for many the photo was motivating factor (in the wildcat strikes)."
The dispute between Longview-based International Longshore and Warehouse Union Local 21 and EGT Development has been intense for over a year but came to a head this summer.
The union says its contract with the Port of Longview gives its workers the right to work at EGT's $200 million grain export terminal. EGT claims it must contract out because it needs its own people to run state-of-the-art controls at the terminal.
On May 20, 150 workers staged an informational picket line, urging EGT to hire ILWU members. Two weeks later, on June 3 more than 1,000 regional union longshoremen rallied outside EGT's Portland headquarters.
On July 11, 100 union members were arrested after tearing down a chain link gate and marching into the EGT grain terminal property.
Three days later hundreds of union protesters blocked railroad tracks to keep a train from delivering grain to the terminal. Burlington Northern Santa Fe stopped all rail shipments to EGT, citing safety concerns.
Then, on July 16, EGT announced it would hire union workers – but not the longshoremen. An Oregon local of union operating engineers, Local 701 in Gladstone, accepted the terminal jobs.
On July 22, EGT was forced to close the terminal due to 100 union picketers blocking access. One protester was arrested.
Yesterday, Longshore protesters blocked a grain train bound for the EGT terminal, stopping it for several hours in Vancouver and then again in Longview before letting it pass.
At the port here the train was blocked for four hours. Nineteen workers were arrested and cited for second-degree trespassing, a misdemeanor. Three were arrested for scuffling with police and 16 more were arrested when they refused to leave the tracks when the train started up again.
The train was stopped at 3:30 p.m., about 200 feet from the crowd. After about an hour, the 107-car train backed up a few hundred feet – bringing a roar of approval and applause from the workers, who thought it was backing off.
"You can get maced and tear gassed and clubbed today" or wait for longshore support from all over the West Coast when the next train tries to enter the EGT terminal, McEllrath told protesters after he met with police. "If we leave here, it does not mean we're giving up and quit. It means we're coming back."
Dan Coffman, president of the ILWU's Local 21 in Longview said union members were hit with pepper spray and that at least one was clubbed. It's unbelievable," said Coffman, "that our police protect the real thugs, a multinational corporation like EGT."
On Sept 1 a federal judge issued a 10-day restraining order against the ILWU, barring it from "unlawful picket line violence," including blocking access to the terminal. A federal judge in Tacoma is expected soon to rule on whether to make the restraining order permanent.
Photo: Hickey/Scott // CC 2.0