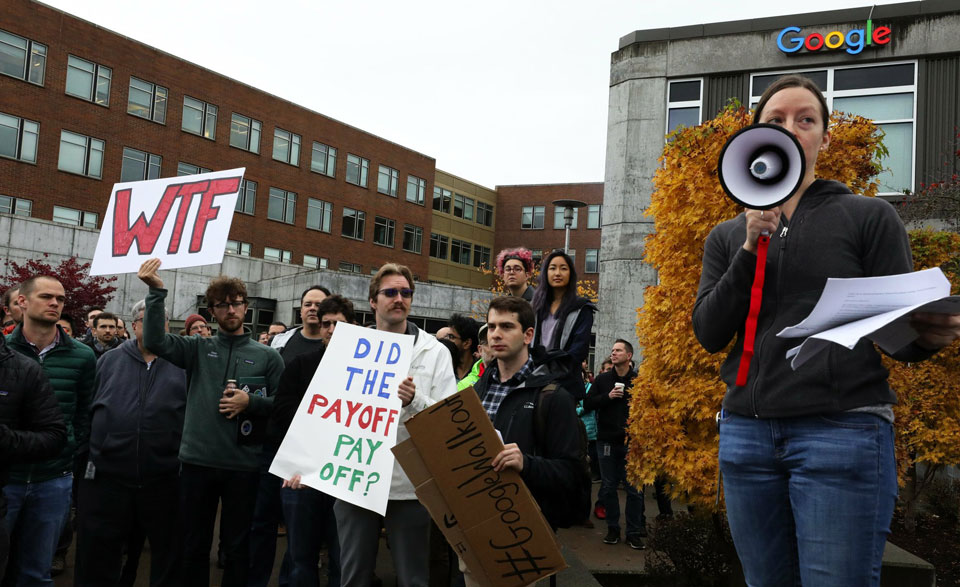 Remember the Google worker walkout over sexual harassment on the job—and company payoffs to harassers—six months ago?
Google did, and it's retaliating against walkout leaders.
The workers did, too. On May Day, hundreds staged sit-ins at the tech firm's offices in New York, London, Cambridge, Mass., San Francisco, Pittsburgh, and elsewhere to denounce that retaliation, which is illegal under federal labor law.
And it's so illegal that one Google worker in New York, who asked to remain anonymous, filed a labor-law-breaking complaint with the National Labor Relations Board's regional office there on April 22. The charges in that case are "retaliation, discipline, discharge" for being a walkout leader. It joins an ongoing NLRB complaint against Google.
More than 20,000 Google workers worldwide walked out last Nov. 1 after revelations of sexual harassment on the job and Google's $90 million severance package payoff to former executive Andy Rubin, who had forced a worker to perform oral sex on him.
That walkout was just the first, and most prominent, of the protests at the non-union firm. Other recent worker protests include opposing company cooperation with the Pentagon through the use of artificial intelligence (AI) for the military and mistreatment of contract workers.
Still, another worker protest succeeded: Google named board member Kay Coles James, a top official of the right-wing Heritage Foundation, as its ethics officer and ethics council chair, despite James' anti-Hispanic slurs and similar statements. After 2,600 workers signed a petition against her, James resigned the post—and Google disbanded the council.
The May Day protests featured social media stories of company sexual harassment.
"Hundreds of people showed up to the @google NYC anti-retaliation sit-in, planned in under 24hrs. So many brave people shared their stories. There were tears and talk of unions. #NotOkGoogle," Meredith Whittaker, a November walkout leader, tweeted about the New York sit-in, where she also spoke. Even Google admitted more than 200 people protested there.
November walkout leaders Whittaker and Claire Stapleton told the Associated Press about company retaliation against them. Google canceled one of Whittaker's projects, costing her pay and bonuses. She then led the May Day sit-ins, too.
And Stapleton e-mailed that "retaliation isn't always obvious. It's often confusing and drawn out, consisting of icy conversations, gaslighting, project cancellations, transition rejections, or demotions. Behavior that tells someone the problem isn't that they stood up to the company, it's that they're not good enough and don't belong."
She was demoted, her project was canceled and she was ordered to go on sick leave, even though she wasn't sick. When she hired an attorney, Google canceled the demotion.
"Now more than ever we need to reject retaliation, and reject the culture of fear and silence that retaliation creates," May Day organizers e-mailed several days before. "The stakes are too high."
"Mountain View Googlers, please sit in, and do not sit back today. Stories of harassment, discrimination, and retaliation must be heard, instead of silenced. Demand systemic change. Stand up to abuse. Don't underestimate your collective voice and action. #NotOkGoogle," worker Vida Vakilotojar tweeted.
The Google demonstrations on May Day preceded yet another walkout at another high-tech firm, Riot Games. That May 6 protest drew hundreds of workers demanding an end to forced arbitration of sexual harassment claims against company bosses.
Past figures show that when workers are forced into arbitration—with no possibility of appeal—companies routinely win at least 90% of the time.
"I am participating in the #riotwalkout today. It should not be legal to force workers into arbitration when they suffer sexual harassment—or any other discrimination, really. It's already not legal in several states. I'd like my company to be on the cutting edge of this issue!!" Riot Games worker Laura Michet tweeted.
"I am terrified to stand in front of you and demand change. But I will not apologize for the trembling of my hands or the wavering of my voice because I will not stand complicit in the face of injustice," Ronnie Blackburn, an insights researcher at Riot told her fellow workers.
"Whether you are here to show your support, express your dissent, or simply discuss so that you can better understand the situation, this is a hard and scary thing to be a part of, so thank you. Thank you all for your courage here today."
Google's retaliation continued even on May Day. A banner atop the workers' twitter feed read: "Google is suppressing our site. Please use social media buttons to share this and help us break through."