Arizona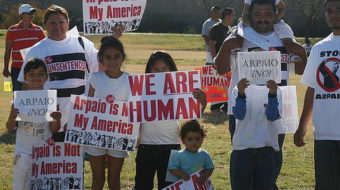 January 6, 2010
Sheriff Joe Arpaio may be a smart man, but that doesn't stop human rights activists from outsmarting him.
Read more
September 1, 2009
With five weeks left in the fiscal year the number of human remains recovered on the Arizona-Sonora border since October 1, 2008 has reached 183 already surpassing last year's death toll.
Read more
June 28, 2009
Arizona's equal opportunity programs are facing a renewed assault this week after the state legislature voted to place an anti-equal opportunity initiative onto the 2010 Arizona General Election ballot.
Read more