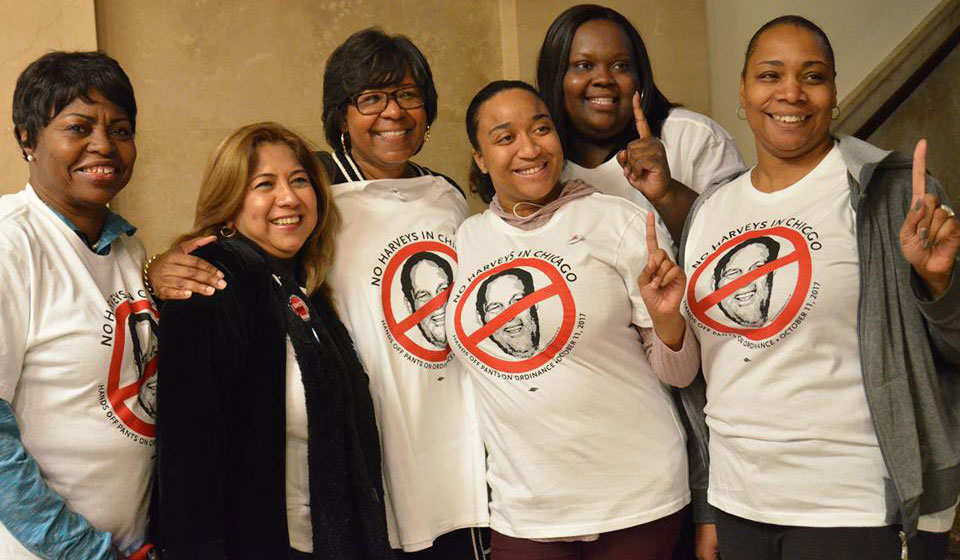 The president of UNITE HERE Local 1, Karen Kent, was honored Tuesday, March 5, at the Chicago Federation of Labor for her leadership in the fight against the sexual harassment experienced on the job by hotel workers. It was Kent and the members of UNITE HERE who played the key role in the "Hands Off Pants On" campaign that won passage of Chicago's new "panic button" ordinance that provides extra security for hospitality employees.
Kent, who became Local 1 president in 2013, is the first woman leader in the century-long history of the local and is a leading fixture in the Chicago labor movement. The union represents more than 15,000 hospitality workers in Chicagoland and Northwest Indiana. Local 1 workers have been in the headlines most recently for their efforts on the frontlines of the tense contract negotiations that resulted in more than 6,000 striking hotel employees flooding the Magnificent Mile in September 2018.
Kent's organizing roots stretch far back, though, to the late 1980s, when she lived in Palo Alto, California and worked as a banquet server at the Holiday Inn. Since then, she has led numerous campaigns with UNITE HERE across the country—in California, Las Vegas, New York City, Dallas, Chicago, and other locales.
Vicky Scheerer, an organizer with UNITE HERE Local 1 says that she has been working with Kent on the ongoing Cambria Hotel Strike campaign—the last holdout of the hotel strike of last year. "It has been amazing to learn from her; she has such a strong and clear vision and is not afraid to go for it," says Scheerer. Kent's work ethic and leadership abilities have won her praise from workers on the ground, particularly during the last six months that Cambria hotel workers have been on strike. "She will come by the picket line and sit in negotiations with us," says Scheerer of Kent's hands-on leadership approach.
The award Kent received March 5 was conceptualized by a collective of women union leaders over 20 years ago. Katie Jordan, who served on the Chicago chapter of the Coalition of Labor Union Women (CLUW) for two and a half decades, spoke to People's World about serving on the founding council. Jordan says that the Chicago Federation of Labor Woman of the Year program was initially proposed by union leader Mollie West. "At every meeting, Mollie would stand up and say to Bill Lee (president of the Chicago Federation of Labor at the time), when are you going to recognize the work that women do in the union?"
After countless years of pressure from West and other women, Lee decided to officially launch a program to uplift women in the labor movement. He turned over the responsibility to CLUW, who was entrusted with selecting the honored guest every year. Jordan states that when the program first came together, the selection committee was comprised of a small collective of women, including herself, Rose Daley (Vice President of CLUW), and Jacqueline B. Vaughn. All of the women on the selection committee had strong ties to the labor movement. "We were not just sitting behind a desk, we mingled with these women, we knew these women," says Jordan.
Jordan says Kent was chosen this year for her monumental work in addressing sexual harassment in the workplace. "She worked her butt off to see that that was stopped," says Jordan. "She got the whole labor movement involved; people feel safer working their jobs now."
Kent's tenure with Local 1 has been transformative. Along with her strong leadership during the strike, she also earned a reputation as an advocate of better protections for Chicago hotel workers from sexual harassment and assault. UNITE HERE 1's partnered with the Chicago Federation of Labor to push for the landmark ordinance that requires Chicago hotels to provide panic buttons for all hotel workers who clean, restock, or take inventory alone in guest rooms and restrooms.
In a survey taken by UNITE HERE Local 1 in 2018, it was reported that 49 percent of housekeepers had experienced sexual harassment from male hotel guests. Stories surfaced of men exposing themselves, groping workers, and attempting to sexually coerce hotel staff. Due to the isolated workspace of some hotel positions, hospitality industry workers can be particularly vulnerable to harassment and assault from guests. The "panic button" is a small electronic gadget that brings attention to housekeepers—and makes a swift request for help. Many include GPS devices that track employees as they walk through the building, and some buttons emit an audible alarm as well.
According to Kent's own words, the new "Hands Off Pants On" ordinance requires Chicago hotels to "establish a written anti-sexual harassment policy that allows hotel workers to stop work and leave the immediate area if they feel they are being sexually harassed." Kent and other members of the committee spearheaded the landmark motion on July 1, 2018, addressing a long-standing issue in the working-class community.
While leading the Hand Off Pants On effort, Kent also continued to play a key role in mobilizing workers through the tedious and extended negotiations processes back at Cambria. "When the weather started getting colder in November, people were getting really nervous," says Scheerer of the ongoing strike at Cambria. Having leadership come out in support of hotel employees boosted morale and encouraged workers to continue to stand their ground during negotiations. "The fact that Karen showed up, jumped right in and chanted with us—it made people feel listened to."
With a commanding presence and an uncompromising vision, Kent has organized thousands of new workers under Local 1 and increased wages for housekeepers and other hotel employees. Even with the remaining Cambria hotel staff still on strike, Kent aims to raise the standard for working conditions in Chicago's hospitality industry, encouraging hotel employees to remain steadfast in their demands.
Although Kent's recognition is of her individual contributions, the "Hands Off Pants On" ordinance is a testament to the labor done by all hospitality workers in Chicago who had the courage to speak up about their experiences.