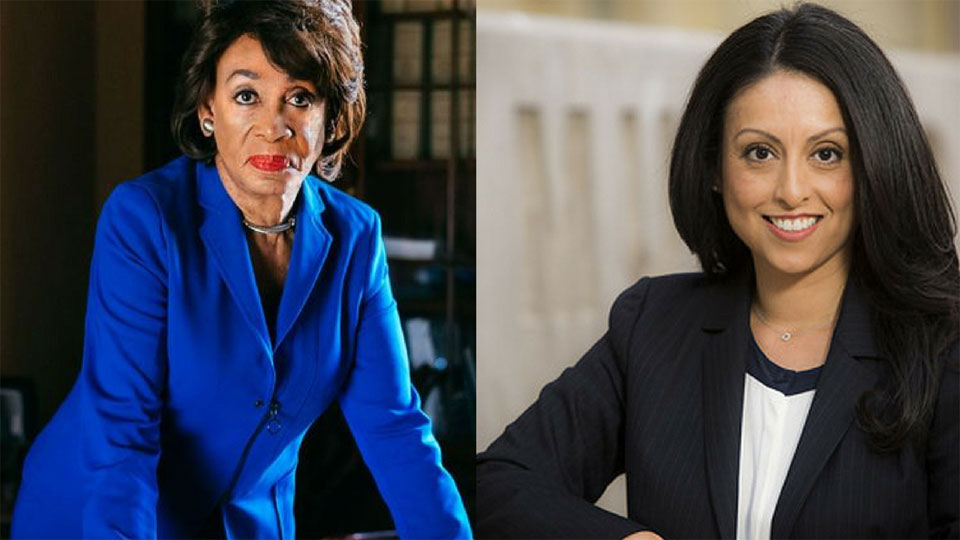 LOS ANGELES—For her Third Annual Women's Equality Day event at City Hall, Councilwoman Nury Martinez interviewed Congresswoman Maxine Waters on issues affecting women of color today, the importance of empowering women in the political arena, and the possible road forward in combating the increased sexism and misogyny fostered by the Trump administration.
In the face of the president's continued public verbal attacks on women of color—particularly Black women—an unprecedented number of women of color have emerged as leaders, running for public office and organizing powerful campaigns leading up to the 2018 midterm elections. Rep. Waters, affectionately called "Aunty Maxine" by younger voters, has been an outspoken opponent of President Trump and his continued attacks on working people and women.
Councilwoman Martinez opened the program by addressing the continued fight for women's equality and the need for powerful voices like Waters.
"So much has changed, but then again so little has," Martinez noted. Referencing rallies held across the country on August 26 to protest the confirmation of Trump's second Supreme Court nominee, Brett Kavanaugh, who has a history of supporting policies that endanger the reproductive rights of women, Martinez explained:
"Brett Kavanaugh, if confirmed, could set women's rights back a century. One hundred years after gaining the right to vote, some of the most important decisions regarding women's bodies are still being made by men. Men who are also aiming to take away the rights of minorities and working families. Men who have never lived a woman's experience. If these men get their way, women will die. We know this."
Speaking on the need to support women leaders, Martinez went further: "We can't rely on these men to be our saviors. We must take it upon ourselves to be the heroes we have been waiting for, and we need to cheer on the women who are paving the way. We have to push the envelope. We have to elect ourselves to public offices. We can't just be about getting others elected, we have to elect ourselves. One of the few good things that have come out of this [Trump] presidency is that many women, particularly women of color, have been inspired to step up and actually run for office."
During the public interview, Waters spoke on a number of topics, one being Kavanaugh's nomination. "We don't believe him, we don't trust him, and we don't want him," the congresswoman asserted. In addressing the danger the Supreme Court nominee presents to women's rights, Waters spoke of her own trials and tribulations as a woman in the political arena. "It has been a struggle. We've come a long way, but we still have a long way to go."
Waters told a story of how, when she was a member of the California State Assembly, a position she served in for 14 years, she tried to put forth an amendment that would have members be called something more gender-neutral than "assemblyman," such as "assemblymember" or "assemblyperson." Waters explained that even with what she thought would be a simple change, she received enormous pushback from the male assembly members and was accused of wanting to "neuter" them. "I lost that battle, but eventually it was changed," she said.
Citing the support that women who choose to run for office need in order to prosper, Waters said, "There have been significant changes. There's been improvement in our ability to raise money and our ability to get support from the business community and organized labor. Those organizations [businesses and unions] were not involved early on in supporting women. It was not a woman's game." Noting the increased support of organized labor for women candidates, the congresswoman stated, "Organized labor has been very supportive, increasingly over the years. Sometimes even in the forefront of identifying women and supporting women."
Waters also championed resources for women candidates, such as EMILY'S List, which helps to train and raise money for progressive women candidates. "I'm also really, really proud of working women, and activist women, women who may not earn a lot of money, the money they deserve, but think it's important to donate that twenty dollars," she added.
The conversation eventually zeroed in on Donald Trump and his presidency. Waters has been a leading voice in calling for Trump's impeachment. "This president is a flawed character," Waters asserted. "He is all about himself…. I'm not afraid of him. He is not fit to be the president of the United States. This man does not have respect for the constitution or democracy," she explained.
Speaking of detractors who have claimed her calls for impeachment will only strengthen Trump's support, the congresswoman countered, "I was told [speaking of impeachment] only fires up his base and gets them to the polls. I say they're already fired up. He's not trying to broaden out. His base is going to do what they're going to do. We have to do what we have to do. We have to get out to the polls and win."
When asked from the audience about reparations for the systemic discrimination against Black Americans, and also fighting inequality, Waters answered, "What can we do about reparations? Elect more people of color. Elect more diversity. It's coming. It's happening. We see it happening in 2016, and some of these [recent] primaries that have been won. To the degree that you get people of different backgrounds, people of color, and women into these legislative bodies, we can change it. Don't expect that some of them [politicians] in high places are going to change. You got to get them out, and you got to get the right people in office."
Calling for people to get to the polls, the congresswoman said, "Let's make sure we get our votes behind this diversity."
In an interview with People's World after the program, Councilwoman Martinez echoed and reinforced many of the points Congresswoman Waters spoke on.
"This presidency galvanized a lot of women to run for office. For women of color, we have a different perspective that we can represent. Growing up, we didn't necessarily see people that looked like us in office, people who were making decisions for us. If anything, this presidency has enabled us to get organized and say it's about time for us to start running for office."
Asked about the strength of Trump's base and the fight to win the upcoming elections, Martinez answered, "I don't know if there's anything we can do to penetrate [Trump's] base. I think his base is what it is. His whole thing of tweeting every single day is a way to distract us from what is really taking place and to incite his base. That's what he does. He talks to them. We need to be smart about that. It's not about his base. We're not going to be able to do anything about those people. They're gone."
Martinez closed the interview by stating, "What we have to do is make sure that we're organizing communities—county by county and state by state, so that we're talking to the majority of people who don't believe in the rhetoric that's coming out of the White House. It's our job to out-organize them."