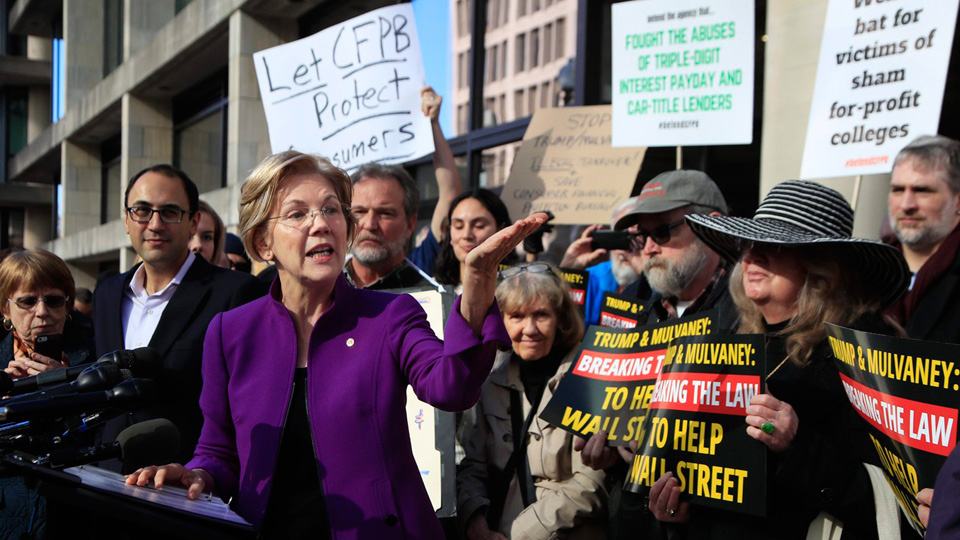 WASHINGTON—Democratic Sens. Sherrod Brown of Ohio and Elizabeth Warren of Massachusetts are demanding that Kathy Kraninger, top aide to Trump budget director Mick Mulvaney, reveal her role in crafting the administration's edict to yank kids away from their parents at the U.S.-Mexico border.
In a letter to Kraninger, the two asked if she helped draft and implement the controversial policy, which has set off enormous protests in the U.S. and brought scorn even from some congressional Republicans.
Their request is relevant because Trump nominated Kraninger to be the next director of the Consumer Financial Protection Bureau (CFPB). She has no experience in the field, consumer advocates note.
As its acting director – while at the same time running Trump's Office of Management and Budget – Mulvaney has busily dismantled the bureau's actions against financial fraud and abuse of consumers.
It's also relevant because the Senate Committee on Banking, Housing, and Urban Affairs, where Brown is the top Democrat and Warren is a member, will hold a confirmation hearing on Kraninger's CFPB nomination on July 19. Warren, a former Harvard law professor and strong consumer advocate, created the CFPB as part of the 2010 Dodd–Frank Wall Street Reform and Consumer Protection Act after the 2008 financier-caused crash.
Ever since, that law in general and the CFPB in particular have been targets of congressional Republicans and their business backers. Both hate serving consumers and love serving financiers.
Before the confirmation hearing, the two Senators want Kraninger to "provide a complete description of any role you may have played in OMB policies, analyses or recommendations related to" the Trump Justice Department's "zero-tolerance policy" at the border and the Homeland Security Department's implementation of zero-tolerance.
That includes Kraninger's analysis and recommendations regarding "the separation of children from their parents who were detained under such policy," the two said.
They also want Kraninger to turn over backup material on her dealings with the issue, including e-mails and recommendations to and from the Trump White House and particularly to and from notoriously anti-Latino top Trump aide Stephen Miller. The senators single out Miller by name.
"The American people deserve to know what role you have played in implementing this appalling process," Warren and Brown concluded their letter, warning Kraninger about questions she'll face.
In her OMB job, Kraninger oversees implementation of Trump government policies at 30 agencies, including the Departments of Justice and Homeland Security (DHS), which are jointly responsible for yanking the kids – some under a year old – away from their parents who seek asylum when reaching the border. Some 2,000-plus kids are still torn away from their parents. DHS lacks a plan to reunify them. Some advocates for the kids assert Trump's DHS now wants to jail the kids with their parents.
Kraninger's job involves making sure agencies follow Trump administration orders – the basis for the senators' letter – and overseeing and managing their budgets. That's not the same as running the agencies themselves, added another GOP foe of the Kraninger nod, the traditionally conservative publication, the National Review.
"Kraninger's first exposure to most of the rules promulgated by the CFPB will, by all appearances, come during preparation for her confirmation hearings. Law students currently doing summer clerkships at the CFPB will have more experience with consumer-credit regulation than the nominee to lead the bureau," it said in an editorial.
And a law professor at conservative George Mason University in Virginia is circulating a letter to conservative colleagues, urging them to oppose Kraninger as unqualified, a financial industry newsletter reported.
Overlooked in the uproar is that by nominating Kraninger, Trump ensured Mulvaney can keep heading the CFPB — and emasculating it – until senators approve a permanent director, be it Kraninger or anyone else. Otherwise, by law, Mulvaney would have had to step down from CFPB at the end of June. Nominating Kraninger gives Mulvaney more chances to destroy the agency.