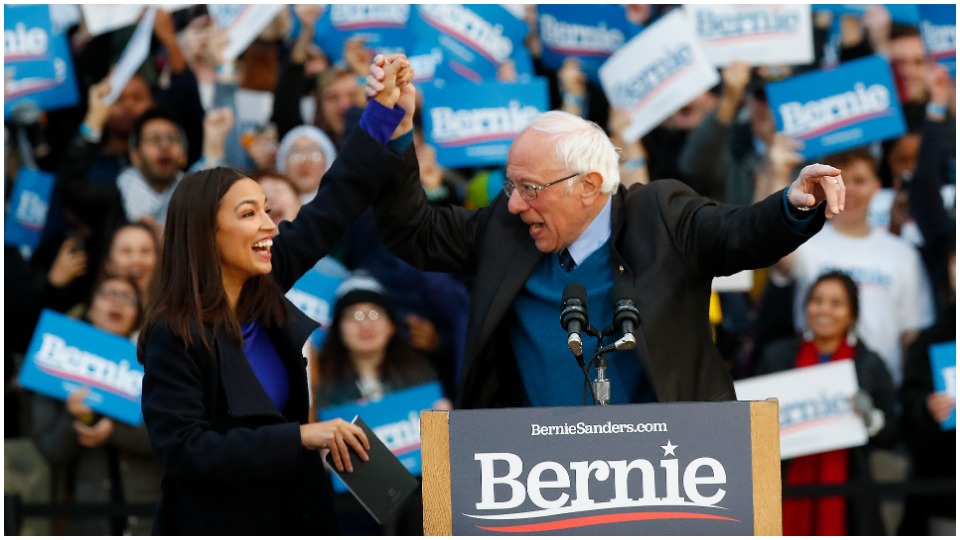 With the candidate it backed, Sen. Elizabeth Warren, now out of the Democratic presidential race, the Working Families Party, a political force in Northeastern states and growing elsewhere, chose on March 9 to endorse Sen. Bernie Sanders, Ind-Vt., over former Vice President Joseph Biden.
The WFP's nod was the second big-ticket endorsement the democratic socialist has picked up in two days. He got a nod the day before from the Rev. Jesse Jackson, Sr., longtime civil rights leader and founder of Operation PUSH.
Biden and Sanders continued on the campaign trail, even though the coronavirus forced cancellation of one planned debate between them, before the AFL-CIO Executive Council in Orlando, Fla., on March 12, five days before the Florida primary. The virus's threat shelved the council's meeting.
Warren, the Massachusetts senator, put together an impressive ground game and detailed position plans on dealing with virtually every issue. But the mainstream media virtually ignored her after criticizing her difficulty in explaining her version of Medicare For All, and that dismissal helped doom her candidacy.
It still left Sanders, though, which cheered the WFP. The party also welcomed Warren supporters to an evening conference call on March 9. Warren herself has yet to announce who she'll endorse, if anyone.
"Over the next few weeks, WFP supporters nationwide will be doing all we can to help Bernie win the nomination so we can defeat Donald Trump in November and build an America that works for the many, not the few," the party said. Sanders, the party said, "has the best chance" of doing that.
"Supporting Bernie is the best path to winning the structural change that Warren fought for. Elizabeth Warren is a progressive lion, and we were so proud to stand alongside her in the fight for big, structural change every day. She ran a groundbreaking campaign, and this contest is poorer for her leaving it. We were lucky to have two progressive giants in this race."
"But with the field narrowing and critical contests coming up in the next few weeks, we believe the choice for working families is clear." Rep. Tulsi Gabbard, D-Hawaii, is also running. She has one convention delegate, while Biden and Sanders each have hundreds.
"Bernie Sanders has been a lifelong champion for working people. He wants to make healthcare, housing, childcare, and education basic rights, reform our criminal justice system, protect and expand Social Security, and take bold action on climate," the WFP said.
The party also noted that in a q-&-a last year with its members, Sanders "vowed to break up big banks that contributed to the housing crash that saw working families lose their homes. He also pledged to invest heavily in affordable housing, strengthen the power of unions, and fight for a Green New Deal in his first term." Warren and Sanders finished first and second, respectively, in voting for the WFP's endorsement last year.
For workers, sitting out the nomination process—or the election—is not an option, the party's leaders warned. "We can't wait because climate change won't wait, spiraling inequality won't wait, our healthcare crisis won't wait, and white supremacy won't wait."
It is notable that Michigan Democratic Rep. Debbie Dingell has not endorsed Biden or Sanders in today's primary election. Witholding an endorsement of the former vice president is significant because Biden eulogized her husband, whose seat she was elected to fill after his retirement, and she is a friend of the former Vice President.
She has been a long-time supporter, however, of Bernie Sanders and his entire legislative agenda, especially Medicare for All.
In 2016, when she backed Sanders in the primary, she was among the few important state Democrats who openly warned that Donald Trump was positioned to win the state of Michigan in the November, 2016 election.  She echoed that warning again today when she said "It would be a big mistake to think it is enough to call for dumping Trump and think that with just that we will carry Michigan this time." Dingell, like many in the Democratic Party, believe the nominee against Trump has to come out strong on the issues, especially health care but also on everything else. A call to dump Trump, by itself, they say, will not be enough.
Parts of an interview of the former Vice President conducted last night by MSNBC's Lawrence O'Donnell leave the impression that there could be some real problems concerning Biden's willingness to stake out strong positions at least on health care.
O'Donnell asked Biden if he would sign a Medicare-for-All bill should one be passed during a Biden presidency.
Biden would not commit to signing such a bill and said instead that he would examine whether the bill was feasible and can be paid for.
Also disturbing was Biden's answer to a question about whether the current coronavirus crisis doesn't show we need Medicare for All more than ever. Biden said it did not and went further to say that people who have Medicare now are not better off in this crisis than those who do not.
Surprisingly, there has been little blowback about these answers anywhere in the press today.
New York's Mayor Bill De Blasio added his voice to those having concerns about Biden this morning. He said that Democrats should be careful about nominating him since he has not been fully vetted. "Sanders has been vetted for months," the mayor said, "and if we don't vet the former Vice President inside our Democratic family now, we can be sure that Trump will do so come the general election campaign."
The WFP also reiterated it would continue to turn its attention to down-ballot races, where it has had some successes—and some near-misses. So far in this cycle, most of its local hopefuls are in New York state and Baltimore.
One big success was as part of the coalition in the WFP's strongest state, New York, that helped then-bartender Alexandria Ocasio-Cortez win the 2018 Democratic congressional primary against an entrenched congressman and party leader.
The party is again backing Ocasio-Cortez and her three colleagues on "The Squad"—Reps. Ilhan Omar, DFL-Minn., Ayanna Pressley, D-Mass., and Rashida Tlaib, D-Mich.
Another success was when the WFP ran candidates in the recent Philadelphia at-large city council election. Seven seats were up, with each party limited to five nominees. For more than a century, the lineup had been five Democrats and two Republicans. But the WFP nominee, progressive community activist Kendra Brooks, ran on a $15 minimum wage and eliminating handouts to developers. She finished sixth, beating out one of the Republicans.
WFP also came close in 2018 when Marie Newman, with the backing of the WFP, National Nurses United, and other progressive groups, almost unseated Rep. Dan Lipinski, D-Ill., who voted against the Affordable Care Act and who opposes reproductive choice. Newman is challenging Lipinski again in this year's Illinois primary, on St. Patrick's Day.
On March 3, WFP had another near-miss in the Latino-heavy 28th congressional district in South Texas, from El Paso southeastwards. Rep. Henry Cuellar, D-Texas, Trump's favorite Democrat—with a 70% pro-Trump voting record—had backing from both the Chamber of Commerce and party heavyweights, including House Speaker Nancy Pelosi and Majority Leader Steny Hoyer.
Cuellar also opposed the pro-worker labor law reform, the PRO Act. Running on that, Medicare For All and the Green New Deal, pro-immigrant attorney Jessica Cisneros, came within 3,000 votes. She lost, 51% to 48%.