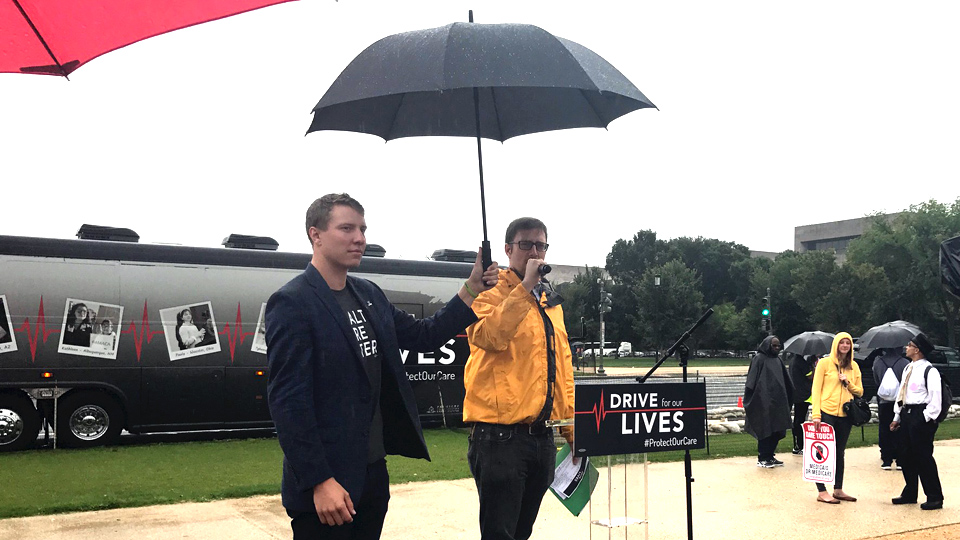 WASHINGTON — After a journey of 7,000 miles from coast to coast, with detours to major cities along the way, the "Drive For Our Lives" health care bus rolled into the Nation's Capitol on September 6, carrying advocates who cheered the defeat of TrumpCare, but who warned the fight is not over.
The bus, accompanied by two more busloads of supporters, pulled up on the rainy national Mall in mid-day. There, Gov. Terry McAuliffe, D-Va., Sister Simone Campbell of Network – the progressive Catholic group – and other speakers told the crowd of more than 100 how the Affordable Care Act helped consumers and in some cases saved lives.
And while speakers all lauded the various organizations, including unions, which beat TrumpCare – their name for the non-replacement legislation that Congress' ruling Republicans tried to enact to kill the ACA – they also warned against underhanded GOP moves to kill it.
National Nurses United and the Teachers were among the unions that backed the bus tour, which began six weeks ago. AFT President Randi Weingarten rode in the west. And New York State United Nurses provided ponchos to the riders in the rainy D.C. weather. No unionists spoke at the D.C. rally, however.
The bus arrived as senators showed the first signs of trying to work in a bipartisan manner, however small, to "fix problems" with the ACA. The Senate Health, Education, Labor and Pensions Committee opened hearings on how to fix the health care exchanges states set up. Moveon.org Washington director Ben Wikler said Trump tries to sabotage the exchanges, by halving the enrollment period and slashing the ad budget for signing up by 90 percent.
"If Trump's not going to tell people" about that "we are," Wikler said.
"As governors, we came together to stop what's going on here," said McAuliffe, gesturing towards the U.S. Capitol several blocks away. But even then, he added, the ACA's flaws would not be fixed without a "fix" by voters: Electing Democrats.
He gave his own state as an example: The GOP controls the Virginia legislature and for seven years, its ruling Republicans defeated requests to expand Medicaid coverage in the Old Dominion, as the ACA permits. That's cost 400,000 Virginians quality health care and the state $10.5 billion in federal Medicaid funds, he said. The governorship and the whole House of Delegates are on the ballot this fall.
Other GOP moves, including uncertainty at the exchanges and the now-dead TrumpCare bills mean "you're going to see premiums go up by 19 percent and 20 million people lose health care," McAuliffe warned.
"We the people require health care to live," Sister Campbell stated. "To achieve quality lives, we have to achieve quality health care for all." Given past partisan rancor over the ACA, and constant GOP efforts to kill it since it became law, she called the Senate hearing on fixing it "a minor miracle." She added: "We the people need to let our voice be heard."